2019 QUINTA DO NOVAL Vintage Port CASE x 6 Bottles - PRE-RELEASE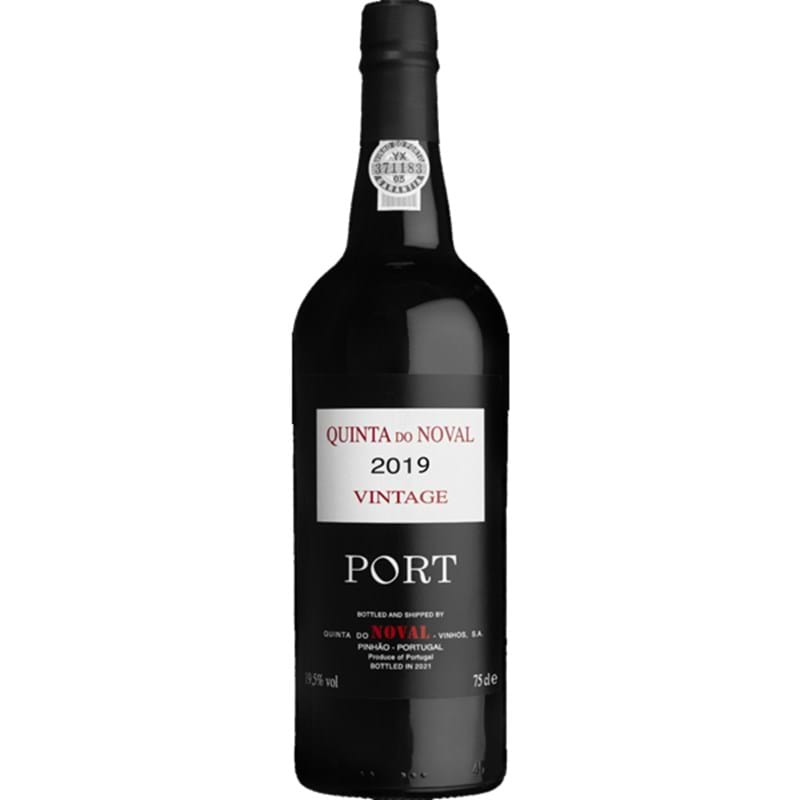 Portugal | 75cl
£295.00
Size: 75cl
Country: Portugal
Description
Dunell's is delighted to offer a release of Quinta do Noval Vintage Port 2019 and Quinta do Noval Nacional Vintage Port 2019.
Quinta do Noval Vintage 2019 is released at exactly the same price as Vintage 2018, representing what we believe to be excellent value for money. Please note that production of Vintage 2019 is limited and the UK's and subsequenty Dunell's allocation is a small proportion of this.

Please be aware that this year, the UK market has been allocated a very small proportion of what is already an extremely limited production of Nacional 2019 – significantly less than in previous years.
To avoid disappointment, allocations will be confirmed on a first-come-first-served basis.

We expect delivery to Jersey late 2021. If there is anything else you need from us, please do not hesitate to ask.

*****
Quinta do Noval was first owned, for more than a century, by the Rebello Valente family who were given it by the Marquês do Pombal, Portugal's Prime Minister. It was later owned by the Van Zeller family who had to rebuild following a catastrophic fire in 1981. Finally Quinta do Noval was sold to AXA insurance group in May 1993.
Quinta do Noval is one of the most evocative of names and the maker of the most famous of all Vintage Ports - Naçional.
The scourge of European vineyards in the late 19th century, the phylloxera aphid was thwarted at Noval's best vineyard by intense fumigation and, rather than grafting the vines on to American root-stocks, which was the usual practice, they managed to survive using Portuguese stock - hence "Naçional".
Noval made its reputation with the declaration of 1931. Due to world recession and vast shipment of 27's, it was one of only three shippers declared in 1931. Noval introduced the first stenciled bottles and in 1958 the first house to introduce a Late Bottled Vintage.
The Quinta do Noval itself lies perfectly situated along a steep hillside in the heart of the Douro Valley where the vines flourish and produce the highest-grade fruit.
Noval today appears to be thriving under the ownership of insurance group AXA with Managing Director Christian Seely, ensuring that their Vintage Port remains one of the most sought-after wines. AXA is a group which already includes a string of leading Bordeaux châteaux.
*****
2019 was marked by a mild winter and generally dry conditions, with almost no rain from May to the end of August. While in many parts of Europe producers faced heatwaves, and although we enjoyed prolonged sunny weather, summer temperatures in the Douro were fortunately lower than usual this year, making the absence of rain easier to bear for the vines. Moreover, low humidity led to low disease pressure in the vineyards and beautiful healthy grapes.
Harvest started on September 9th for the red varieties. Harvesting conditions were ideal, with moderate temperatures and overall dry weather. A small amount of helpful rain fell on September 21st/22nd and later between October 14th and 17th. Yields were slightly higher than our 10-year average and musts showed great natural acidity and freshness.
We finished harvesting on October 18th after 6 weeks of picking. This was a long harvest, but this is not unusual in the Douro, where the diversity of grape varieties, aspects and altitudes results in different picking times for each specific plot.
This diversity represents a challenge for the technical team but also an incredible richness, adding complexity and character to our wines at Quinta do Noval.
Early tastings revealed some marvelous wines. They display pronounced aromatic intensity of ripe red fruit and remarkable vivacity. The fine quality of the tannins contributes to well-structured Ports with long ageing potential.
Grapes are trodden by foot to obtain the must, then they macerate in the lagares, the traditional stone vats from the Quinta, to ensure the best possible extraction of aromas, colour and tannins during fermentation. It is matured for 18 months in wooden casks in the air-conditioned cellars of the Quinta, at the demarcated region of the Douro Valley before bottling.
*****
Quinta do Noval Vintage Port is characterised by its purity of fruit and a fine, delicate quality that is typical of the wines of the property in general, but which finds its most remarkable and enduring expression in the Vintage Ports.
Equilibrium, harmony, finesse and elegance characterise our great Vintage Ports, which are declared only when we are certain that the year has produced a blend, however small, that is worthy of bearing the name of Quinta do Noval Vintage Port.
Noval follows its own path in its approach to Vintage Port. If we believe that we have wines of the quality and personality to join the ranks of the Quinta do Noval Vintage Ports of previous years, we will bottle it and declare it, even if this means declaring several years in a row, and even if it means, as is often the case, bottling only a few hundred cases of Quinta do Noval Vintage Port, representing a tiny percentage of the total production of the Quinta.
Of course, in very great years, when there is unanimity among Port producers, and a General Declaration results, Quinta do Noval will declare its wine also, and perhaps with a little more wine than usual. But whatever the year, the standards of selection in the Noval tasting room are extremely rigorous, and even in the more generous years volumes of our Vintage Ports are always extremely small: at the very most, up to 15% of the production of our great vineyard terroir.
In the case of 2019, the selection of 2780 cases represents 14% of our production.
GRAPE VARIETIES - Touriga Nacional, Touriga Francesa, Tinto Cão, Sousão, Tinta Roriz

*****
THE WINE ADVOCATE Rating 97
Drink Date: 2029 - 2075
Mark Squires, 22nd Jul 2021
The 2019 Vintage Port is a field blend aged for 18 months in old wood vats. It was bottled May 4, 2021, and has 100 grams of residual sugar. It was in bottle only a bit more than two months when tasted, but it seems quite brilliant, even so. Very concentrated, it adds controlled power and coats the palate. Tasted with some other 2019s, this certainly stood out for both concentration and power. It touches all the bases in terms of expressive fruit and structure, finishing dry and seriously. It seemed balanced enough to drink young, but that would be a mistake. For one thing, it steadily tightened as it aired out. It also increasingly showed gorgeous eucalyptus-laced aromatics. Two days later, it was notably more astringent. Four days later, it was very firm on the finish and better overall. In fact, that was a far better showing than on day one. This is plainly built for the long haul. I would expect nothing less from a fine Noval Vintage Port. It became more focused and precise as well. This needs the rest of this decade, at least, in the cellar to show better. Then it will develop well for decades and hold indefinitely. Frankly, it won't show everything it has in even 10 years, where I have the "start drinking" window, so if you have a lot more patience, that would be useful. It will be more interesting around 2035-2040. This is a powerful beauty, well justifying Noval's tendency to declare most every year.


*****
T&Cs
Pricing - No further discounts apply. Prices include Freight, Jersey Import Duty & GST.
Delivery - Winter 2021
Storage - Free storage until 30th April 2022 in our temperature-controlled storage facility.
Allocation Policy - Limited availability, orders will be confirmed as soon as possible.
Payment - Goods will be invoiced on receipt of order and payment is due as per your account terms.
E&OE – Errors & Omissions Excepted