Think Pink Virtual Tasting Friday 18th June 2021 with Kasia (DipWSET)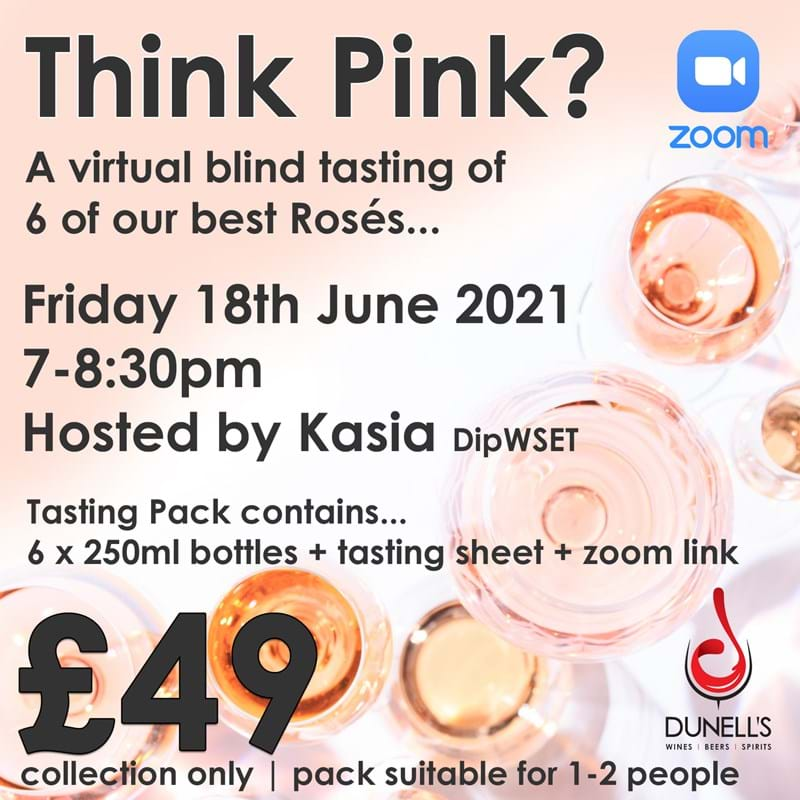 £49.00
Description
Delighted to announce our next virtual tasting will take place on Friday 18th June 2021 from 7-8:30pm vand this one is bit different from all the others we have held so far.
Rosé is what we all love to drink when the sun is shining so now's the time to find a new favourite to sip on for the next few months! However, it is so easy to get stuck picking up the same rosés year after year. Not only is this a great way to bring some friends together for a night in but to also try 6 of our best-selling rosés and truly decide which ones you like without being skewed by the label!
Each tasting pack of 6 x 250ml bottles is suitable for 1-2 people so purchase a pack or multiple packs and have your friends round for the evening and enjoy this informative and fun blind tasting with Kasia at the helm to guide you.
Limited packs available. The tasting will be held via zoom.
This tasting pack is for COLLECTION ONLY on Friday 18th June from the Beaumont shop only.
*IMPORTANT* - When purchasing this package online, please purchase separately to any other products.
Here's Kasia to explain more...
Here is Kasia to explain a little bit about our upcoming blind rosé tasting that will be held virtually via zoom on Friday 18th June. It's going to be great fun and no doubt, you'll be very surprised! Book your tasting packs today!