Foraging and Seafood event was a great success!
18th March 2022
We had a brilliant afternoon on Friday 18th March on our foraging trip with Kazz from Wild Adventures roaming on the coastal edge of St Ouen and onto the reef at low tide.

We picked and tasted some delicious plants on land that we'd normally just ignore followed by some really tasty seaweeds out on the reef that all the top chefs go crazy for. After exploring Kazz cooked up some of our finds whilst we enjoyed a delicious glass of Albariño in the warm sunshine. Only got to try out some limpets, seaweeds and sea herbs as all our meaty finds were too small and so, of course, were left to continue growing. It was such a great way to spend an afternoon and we would highly recommend you book up with Kazz at Wild Adventures soon. Thank you Kazz for a brilliant time! Wild Adventures Jersey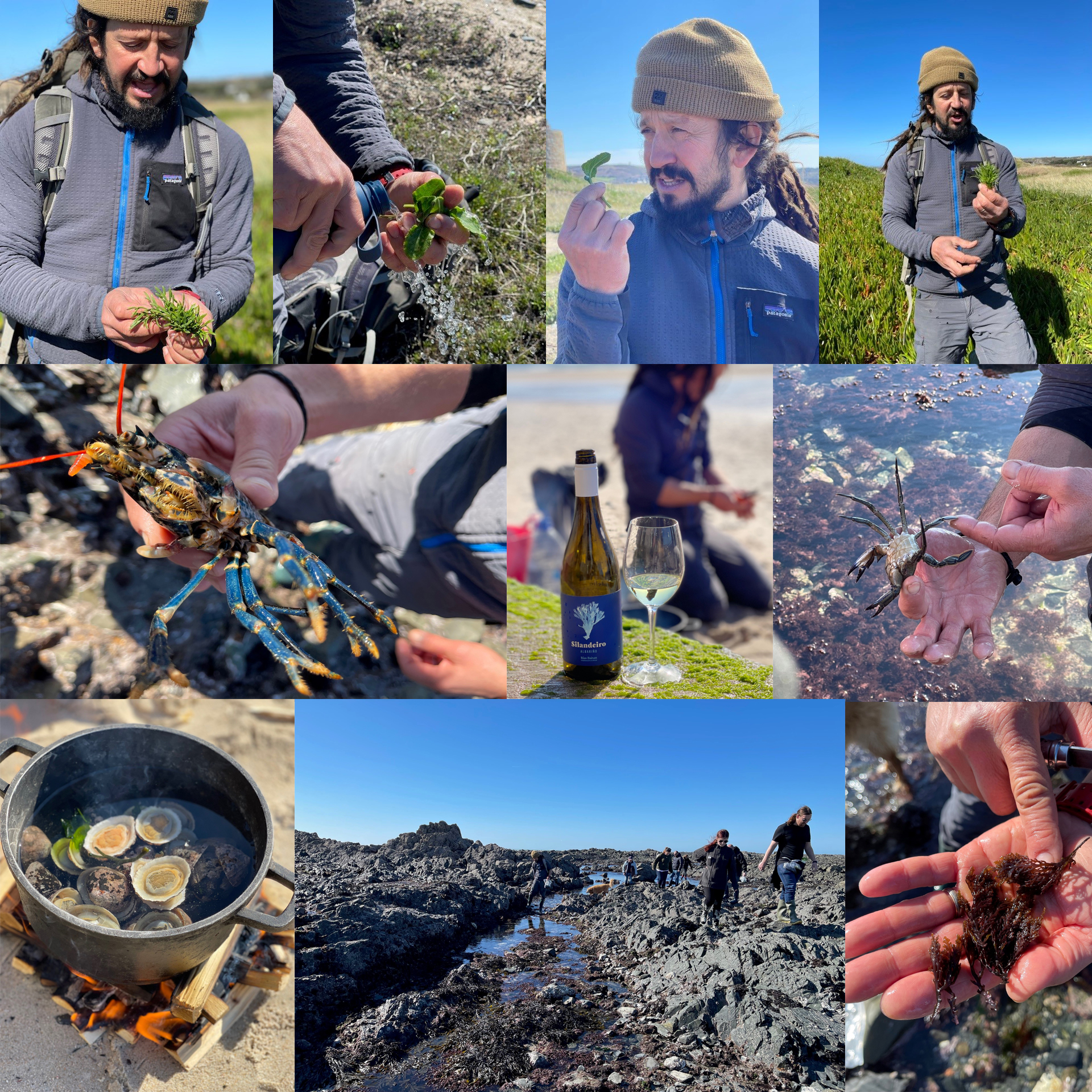 After recovering from our exploration and foraging trip in the afternoon we welcomed our customers for our Seafood Feast and Wine Pairing event at Beaumont. All the seafood was prepared by Vicky Boarder of Binney and boarder and Clare Whitehead from Liberty Wines Wine Academy, paired five delicious wines with the different shellfish on offer. A sell-out event which we will definitely do again. Thoroughly enjoyable indeed. Huge thanks to Clare, Kasia, Daniele and Erik for the service and hosting and to Vicky for the wonderful array of top quality food. Let's set another date!!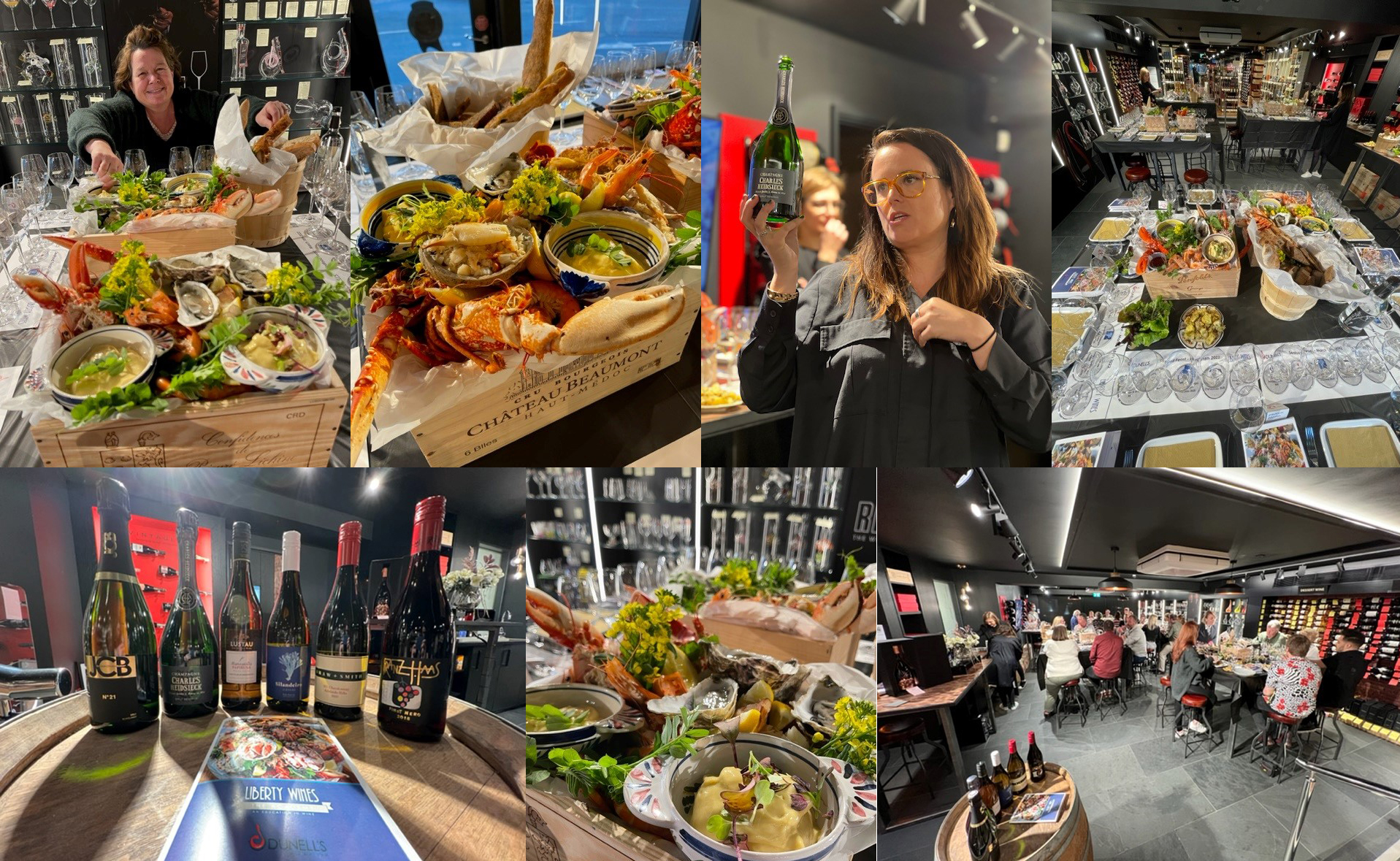 Some words from Clare Whitehead...
Finally! It was such a pleasure to host a seafood feast at
 @dunellswines on Friday night.

The seafood was insane from @bbinnatureislife Sadly not all foraged by us!

We had...

- Lobster 🦞which we had with @charlesheidsieckchampagne brut reserve. I mean there was no other choice. 🤷🏻‍♀️ The rich meat of the lobster was perfect with the complexity of the long aged champagne. 👌🏼
- Crab 🦀 paired with @shawandsmith M3 Chardonnay. The stronger flavours of the crab meat went so well with the elegantly oak aged notes of the wine. I'm always amazed at the precision of these wines.
- Prawns and Gambas went well with the @bodegasgallegas The subtle salinity and citrus zing went brilliantly with the sweeter taste of the prawns and gambas.
- Oysters - I paired this with manzanilla. A daring match. Adored by some, a struggle for others. The salty notes of this Costal Sherry worked great with the briney nature of the oysters (if you were brave enough).

I also pushed the palates of everyone by getting them to try a red.

We had @franz_haas_winery Pinot Nero. Lower tannin with excellent bright fruit, but with some savoury complexity and great refreshing acidity. It was a huge hit and so don't be surprised if you see people knocking back red wine and seafood this summer in Jersey!

#wine #wino #food #foodie #seafood #shellfish #champagne #sherry #jersey #winetasting
Coastal Foraging with Kazz...