Description
Handcrafted in the Channel Islands, Dunell's has created and launched Pink Granite Gin 'The Stonemason' as a tribute to the local stonemasons who have hand-carved this uniquely coloured stone that formed millions of years ago. It is inspired by their ability to create monuments of timeless beauty and which makes the environment we live in very unique.

This gin has been designed by Neil and Jane Pinel (the husband and wife team behind Dunell's) and is expertly made by Luke Wheadon of the Channel Islands Liquor Company in Guernsey. It is the result of over 18 months work and we are extremely proud of the blend which is an elegant infusion of locally grown raspberries as well as pink grapefruit, hibiscus and pink peppercorns to create a gin of pure sophistication.

It has an incredible mid-palate and is so smooth making it ideal to be enjoyed neat, on the rocks, as a G&T or as part of a gin-based cocktail. For a classic G&T we highly recommend Fever Tree Indian Tonic with a couple of raspberries and some pink grapefruit peel.

For more information and to read our story, please visit www.pinkgraniteci.com 

If you would like to view our Gin and Tonic recipes, please click HERE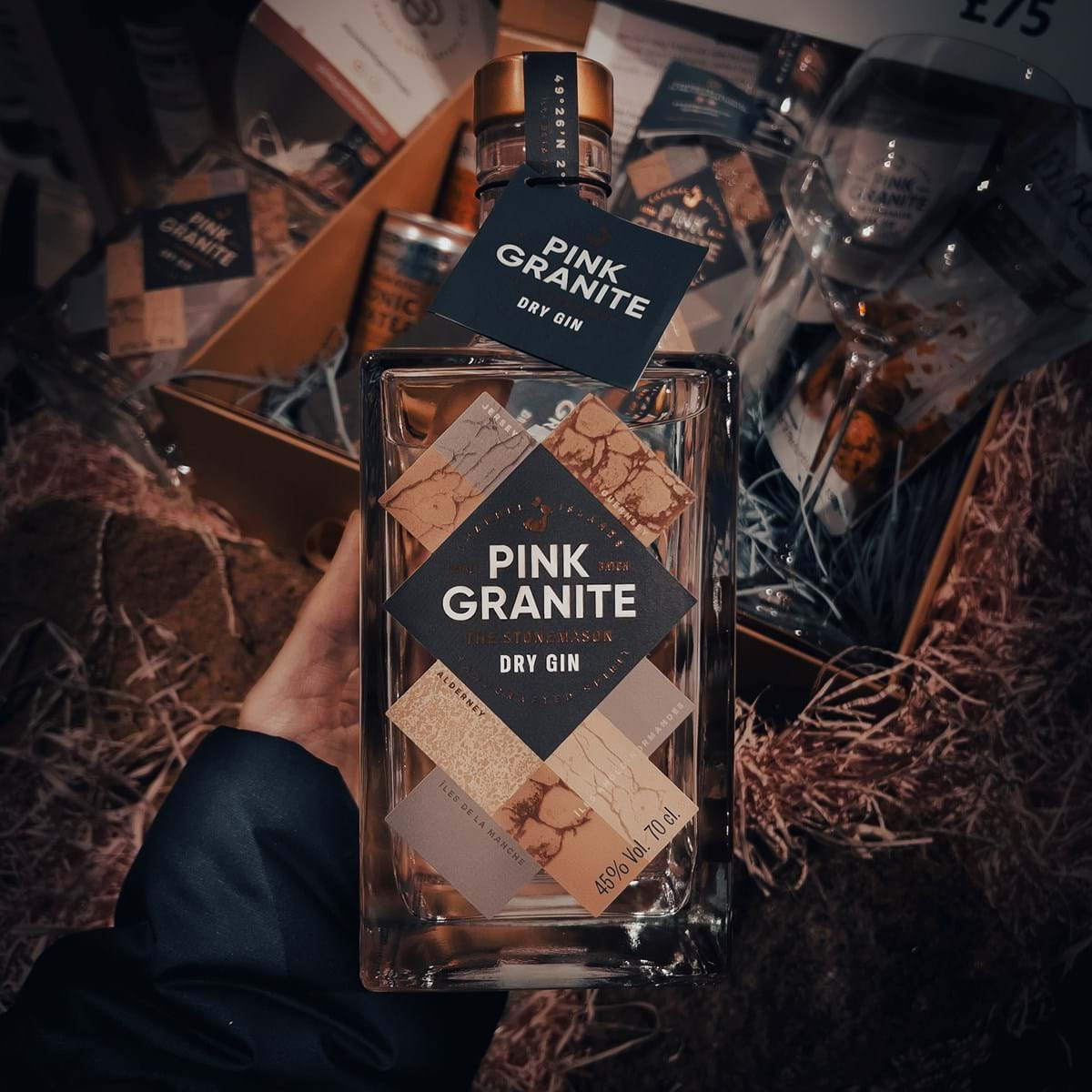 Oliver's Review!

Now for a spirit that's even closer to home! Pink Granite 'The Stonemason' Dry Gin is the brainchild of my parents Neil and Jane Pinel, working with Luke Wheadon of the Channel Island Liquor  to distill a gin to mark the 50th Anniversary of Dunell's as a wine and spirit specialist. Conceptualised back in early 2018, the brand is centred around Jersey's distinctive coastline and building material, making 'pink granite' its namesake. Taking inspiration from locally grown raspberries at the forefront, the gin focuses on a more classical London Dry but striking a balance with aromatic fruitiness; making this gin appealing for both men and women!
My tasting notes:
👃- Starts with a present floral tone developing into whiffs of raspberry and lavender, ending on more citrusy note of lemon and pink grapefruit.
👅- A smooth array of citrus and raspberry followed by a delightful tinge of juniper and peppercorn.
🏁- To top off this delight, your palate concludes with hints of lemon, raspberry and pleasant chilli spice from the pink peppercorn. Long lasting aftertaste.
My rating: 8.5/10
This gin is hugely pleasant without being overbearing, despite the ABV sitting at 45%. I would recommend this to everyone reading who loves gin, I'm sure you would love it! I have only tried this neat so far but I am told it is also great with Fever Tree Aromatic Tonic with a garnish of fresh raspberries and a couple of basil leaves.


Oliver Pinel
Instagram - @thespiritofbeaumontjsy
You may also be interested in