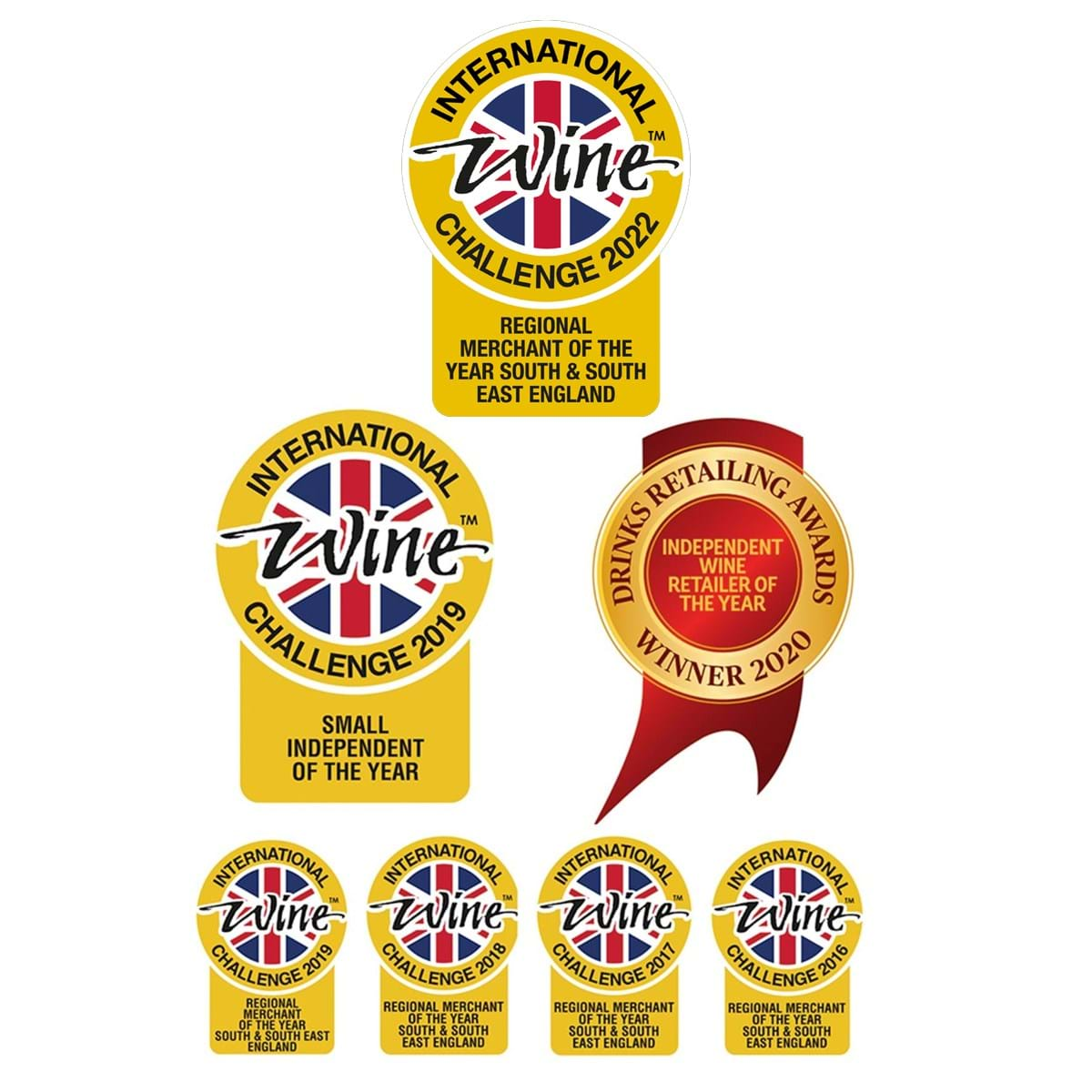 Welcome to Dunell's, an 'award-winning' independent, family-owned and run wine and spirit specialist located in Jersey in the Channel Islands. Dunell's is widely recognised as Jersey's leading specialist and was named Small Independent of the Year 2019 by International Wine Challenge and Independent Wine Retailer of the Year 2020 by Drinks Retailing, both National awards and we have just been awarded Regional Wine Merchant of the Year 2022 by the IWC for the South & South-East England (read more).

Dunell's Ltd has been trading since 1899 (see our history) but in 2019 we celebrated our 50th birthday as a wine and spirit merchant. We have 3 shops based in Beaumont, St. Helier and Gorey as well as this our full e-commerce website offering FREE island-wide delivery on all orders over £75. Free collection available on always available at all three shops.
We pride ourselves on our extensive range of over 1,700 wines (plus a further 400 trade only wines) from all over the world, our wide range of spirits (over 500), liqueurs, beers, lagers, ciders and soft drinks as well as an extensive range of deli foods, glassware and wine accessories. Our highly qualified, dedicated team are delighted to offer our customers personal, friendly service . 

You can choose to visit us in person, use our handy Click & Collect service or receive a delivery from our seperate warehouse team.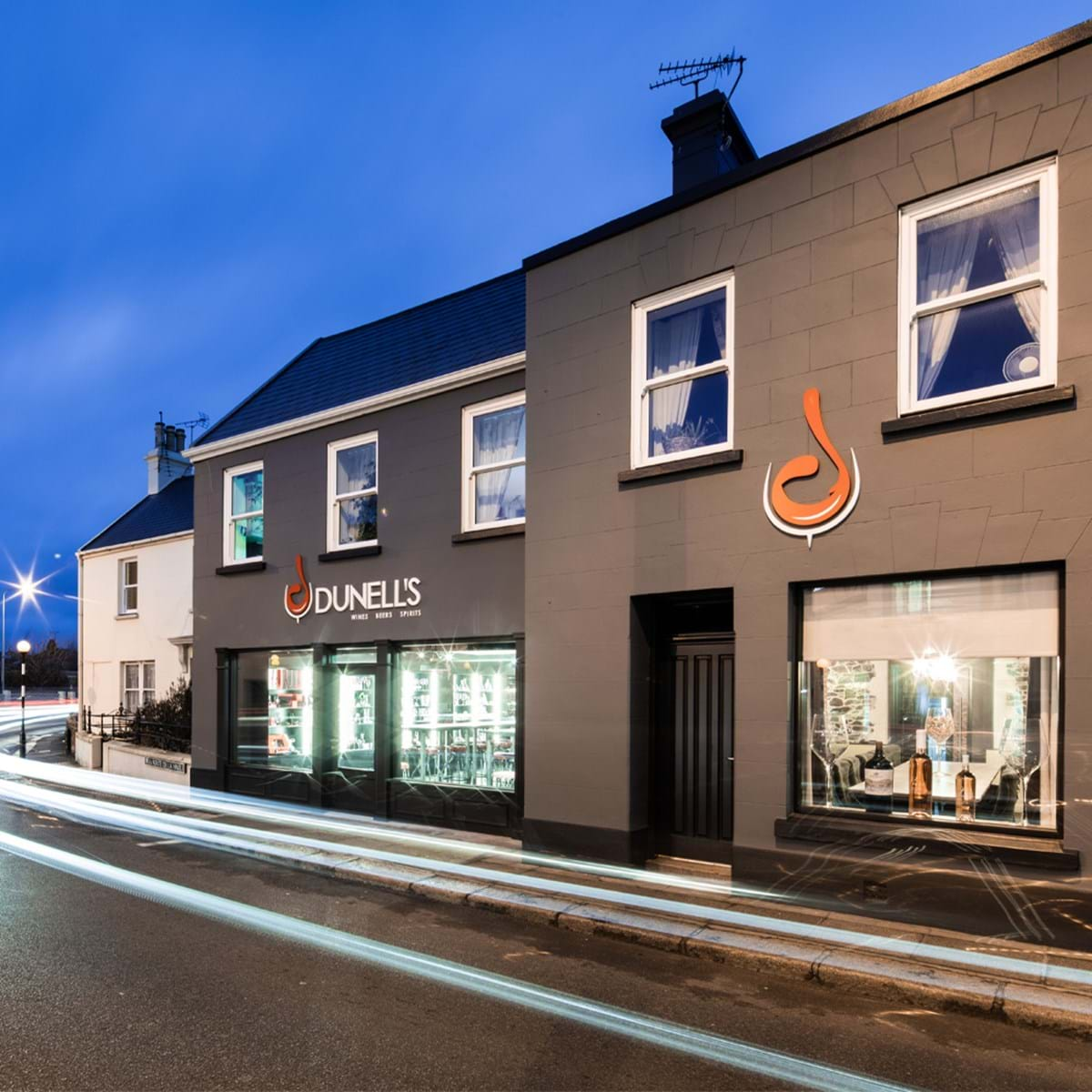 Dunell's Beaumont
Located at the bottom of Beaumont Hill, our large temperature-controlled shop benefits from our large private car park facing the beach. The shop entrance is via the car park on the beachfront. Be prepared, our shop is MUCH bigger than you think!

In May 2019, we celebrated our 50th anniversary as a wine business (previous to that it was a grocer's and a baker's store dating back to 1899) so having opened our boutique stores in St. Helier and Gorey 9 and 5 years ago respectively, we turned our attention back to our main store in Beaumont in 2018, with the aim of bringing the building right up to date, improving the shop frontage, creating two new tasting rooms for events as well designing and building a brand-new office space for our team. Originally, it was hoped the renovations would take 3-4 months but it soon became evident that a lot more work needed to be done to achieve the desired look and top quality finish we desired.

The renovations were completed at the end of November 2018 after 11 months of hard work.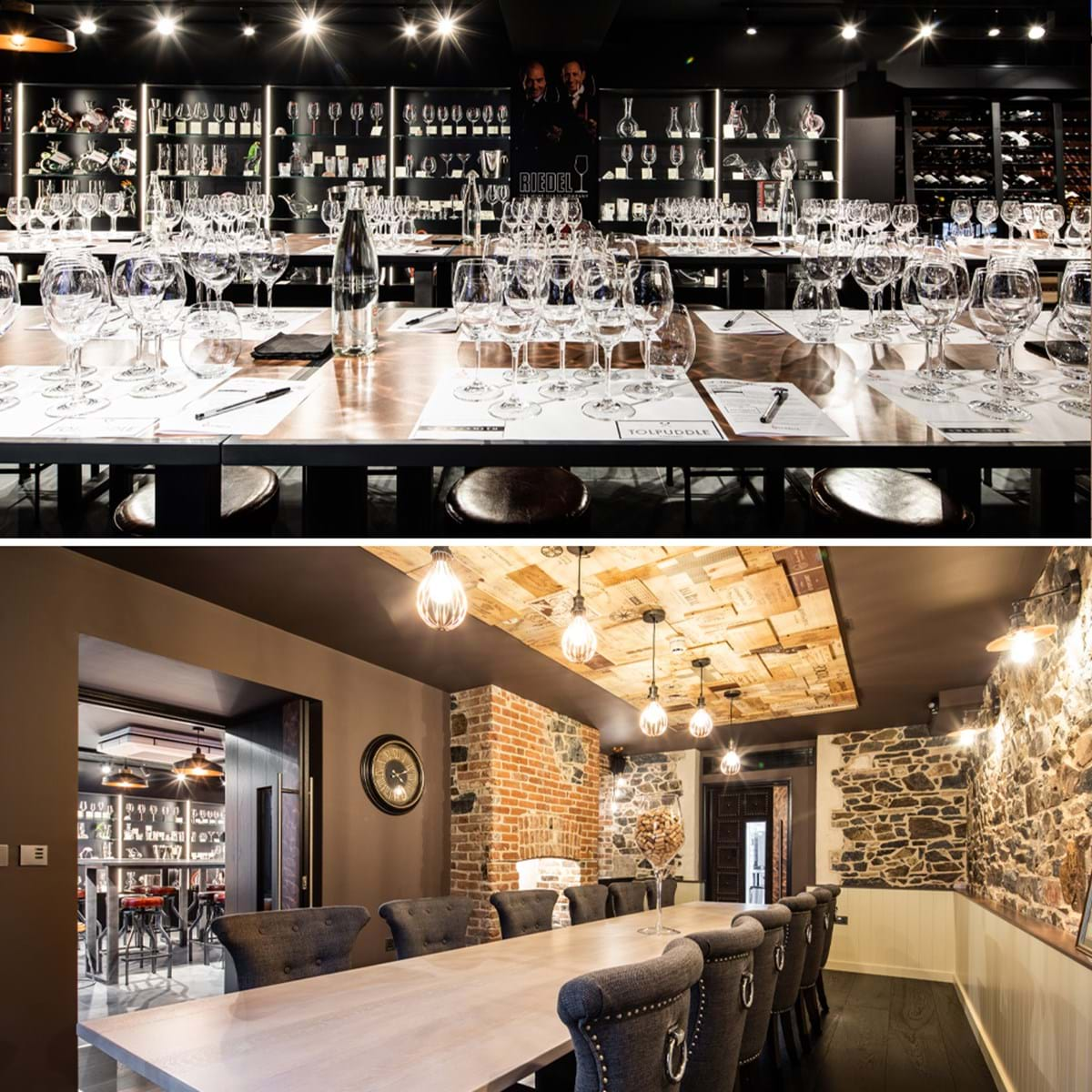 Tasting Rooms
Our main Tasting Room, which also displays our vast Riedel glassware collection, incredible decorative glass pieces from Massimo Lunardon and the Coravin Wine Preservation collection, can seat 30 people at our tables or can accommodate up to 60 people standing. This temperature-controlled environment is perfect for our in-house tasting events or for private and corporate clients to be entertained with one of our bespoke wine tasting packaged events. It is also possible for clients to decorate the area with corporate or seasonal themes.

Our private Tasting Room, just off the main room, is also temperature controlled and features video-conferencing facilities. This room can seat up to a maximum of 14 people and is suitable not only for wine tastings and private dinners but can also be hired during the day for board meetings etc.

We also have a kitchen facility which is regularly used by outside caterers and chefs so that food can also be provided.

Please email events@dunells.com or visit us at the shop and speak to one of team.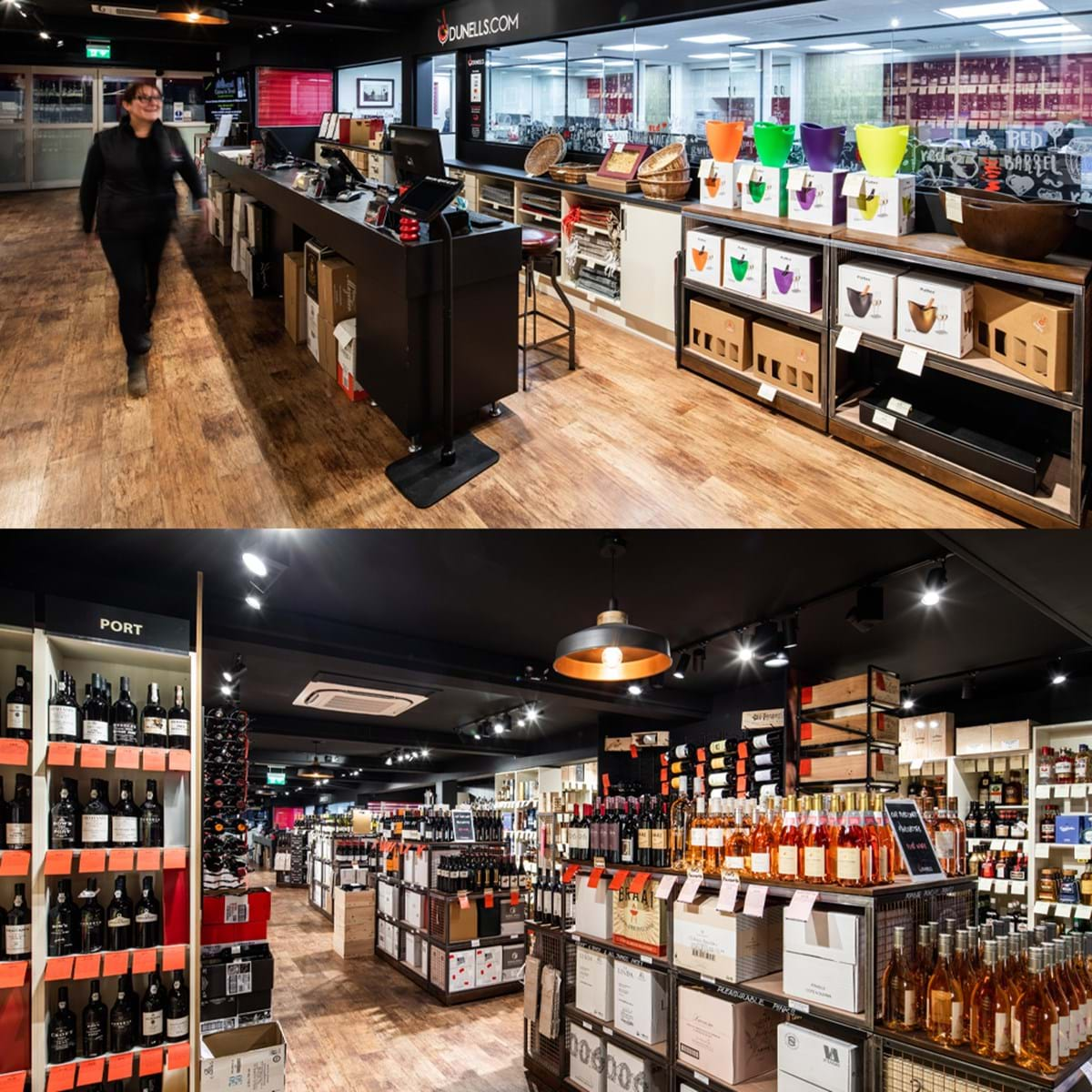 Neil Pinel, Managing Director wrote...
"We are extremely proud of our Beaumont shop and all its new facilities. We've basically had to rebuild the shop from the inside out with brand new wiring throughout, new lighting, air-handling system, new steels and underpinning work, new air-conditioning, the list goes on. It was extremely stressful as we had to keep the shop open throughout. The continual noise, dirt and dust was the most difficult part. We even had a digger in here for a couple of weeks to help remove 300 tonnes of rubble to create the main tasting room area. We are incredibly proud with the finished result and we couldn't be happier. Our customers are loving the new shopping and tasting experience we have created. It's everything we have dreamed of."
Dunell's St Helier
In addition to our main store in Beaumont, we also have an shop in town.
Located at 37 Hill Street, St Helier (opposite Snow Hill bus stop), our town shop offers almost 800 different wines from around the world and 200 different spirits from our main portfolio. We also have a large selection of beers as well as glassware and accessories. It's a perfect one-stop gift emporium! 

We opened this shop in September 2011 and it continues to go from strength to strength offering the convenience of our superb range but in a town location. This location also plays host to numerous private and corporate wine tasting events. Please do feel free to contact events@dunells.com to talk about any future events you may wish to arrange.
Dunell's Gorey
In addition to our Beaumont and town shops, we opened our latest boutique store 'out East' in December 2015.
                     
Located next door to the Bass & Lobster Restaurant on the Gorey Coast Road, you will find an unrivalled selection of 500 best-selling wines from our portfolio, craft beers, ciders, spirits and liqueurs as well as a beautiful range of decanters, glassware and gift hampers. We also have fridges full of chilled wines and Champagnes for your convenience as well as a dedicated fridge for delicious meats and cheeses. There is free parking nearby.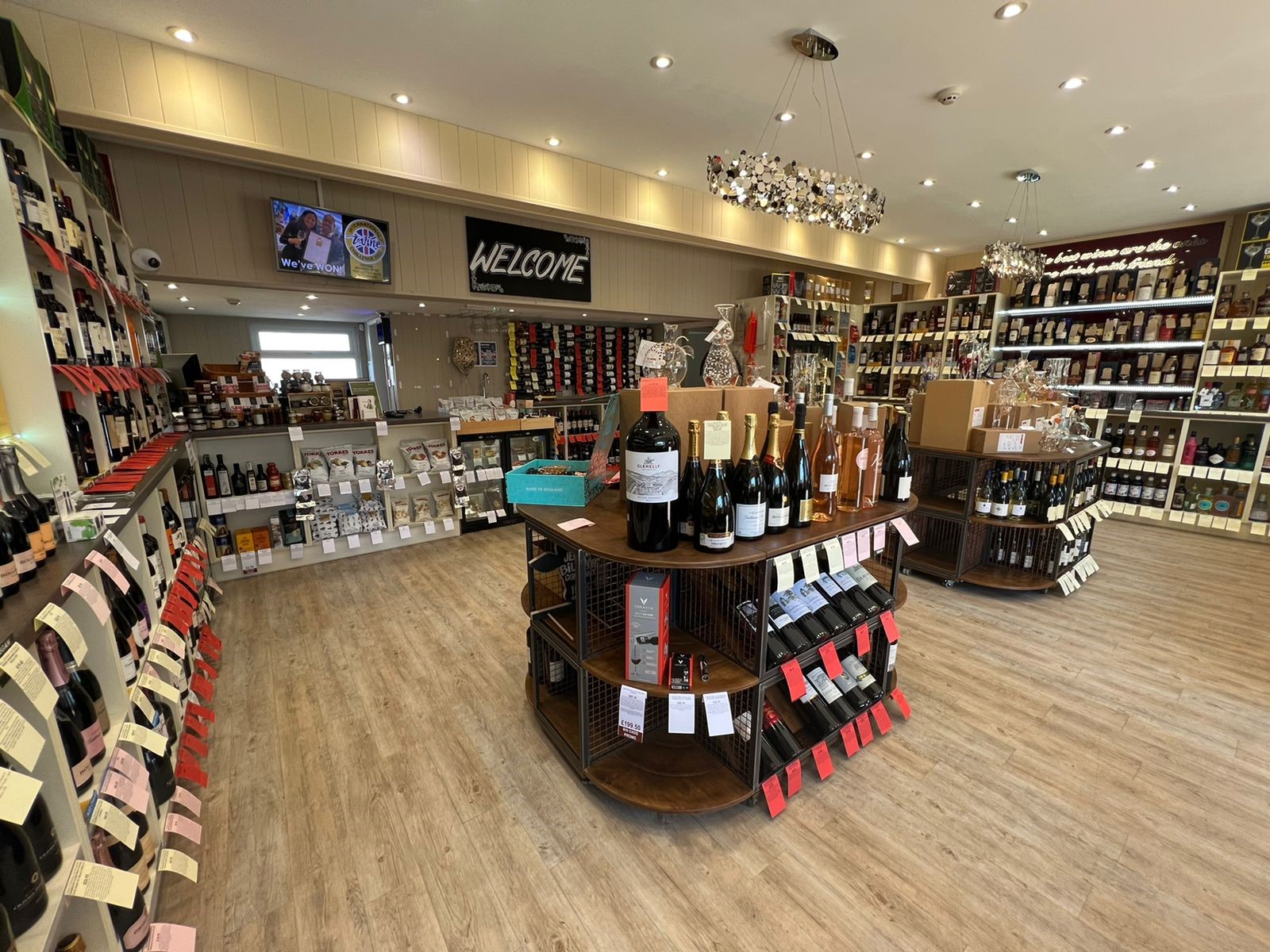 `