Retailing Awards
2020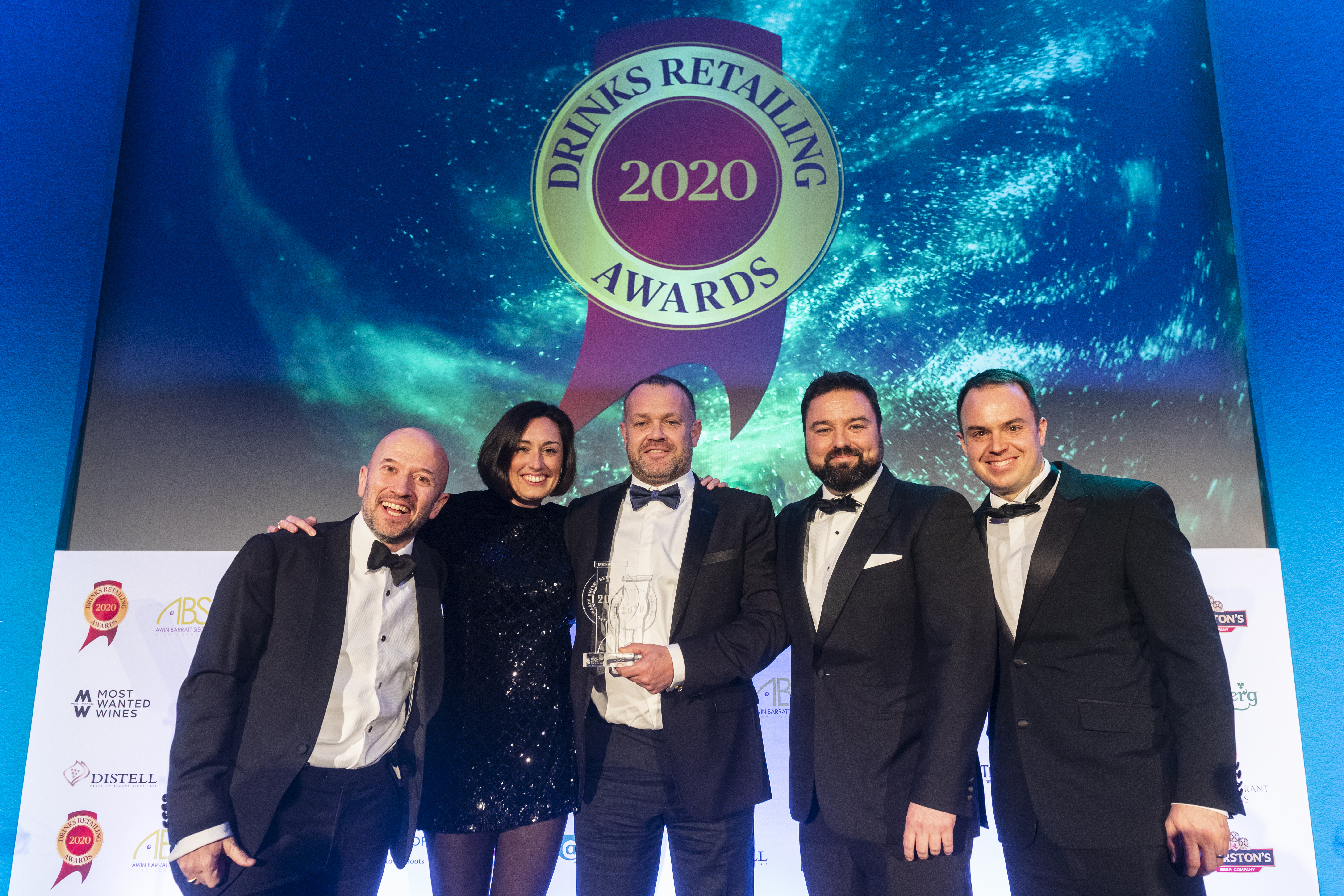 We were absolutely thrilled to have been presented with the Drinks Retailing Independent Wine Retailer of the Year 2020 award at the Drink Retailing Awards held at The Dorchester, London on 4th February 2020. The annual ceremony is designed to reward excellence in drinks retailing across a number of sectors, including supermarkets, wine merchants, independent specialists, convenience stores, online retailers and wholesalers.

To have scooped the IWC Small Merchant of the Year 2019 trophy and then to have won another prestigious national award in 2020 is just outstanding especially considering we live on a small island and the incredible standard of independent merchants throughout the whole of the UK. We are truly honoured to have been recognised in this way and is testament to our amazing team who work so incredibly hard to offer the best possible range of wines, beers and spirits combined with first-class service and atmosphere across three shops.

Drinks Retailing wrote: "Congratulations to the Pinel family, which operates three top-notch wine shops in Jersey. They all have a common visiual thread while retailing distinct personalities that suit diverse locations. They have all flourished in recent years and Dunell's fully deserves this coveted accolade."

Huge thanks to Drinks Retailing and also to Bancroft Wines who sponsored the award and gave us and the other 3 finalists in this category such a great evening!

Pictured above are presenters Joe Fattorini (The Wine Show - Left) and Martin Green (Drinks Retailing News Editor - Right) together with Jon Worsley from Bancroft Wines and Neil and Jane Pinel from Dunell's.
2019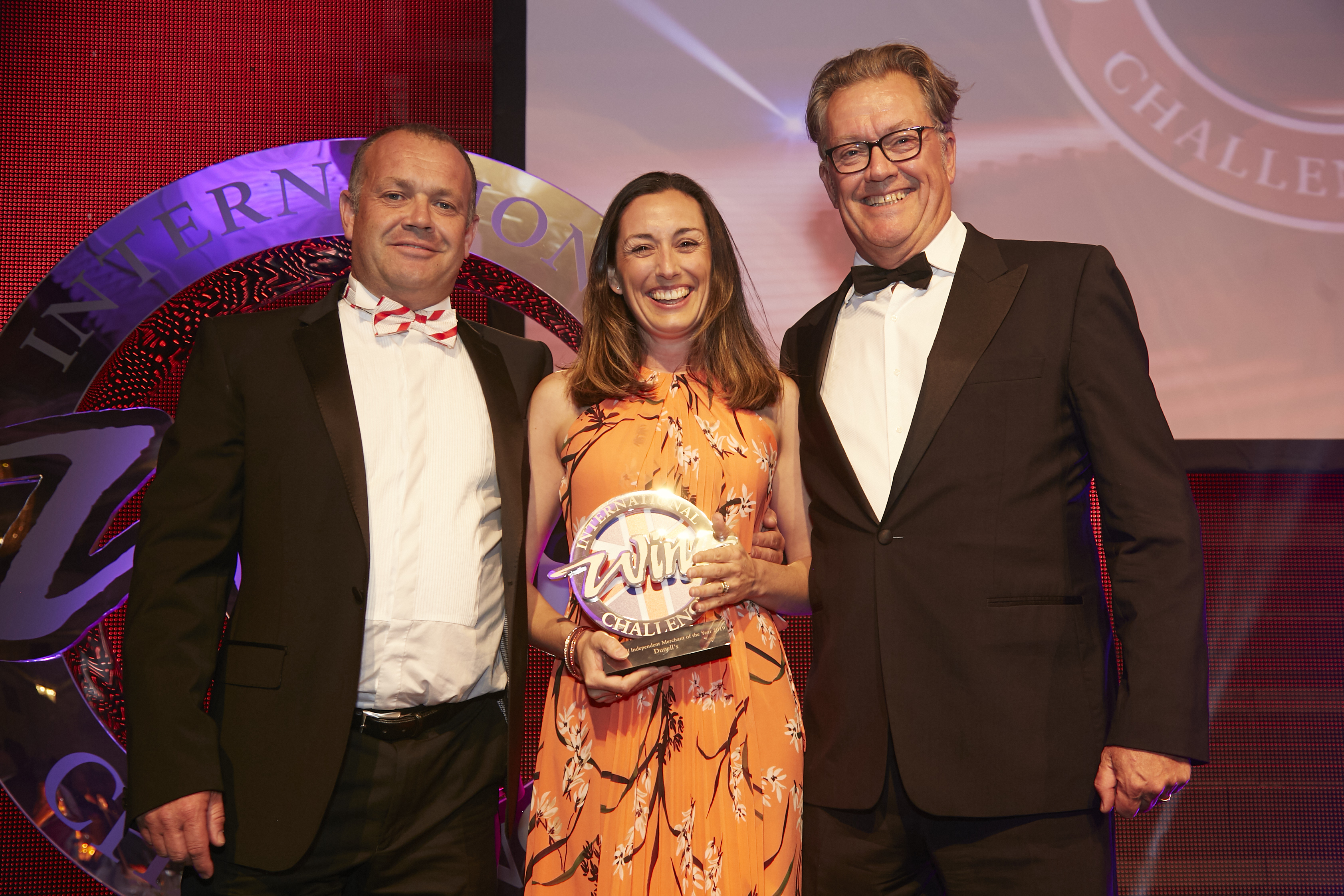 In 2019 we won the International Wine Challenge Regional Merchant of the Year for the South and South East of England for the fourth year in a row and were absolutely delighted to win, for the first time, the overall National IWC Small Independent Merchant of the Year 2019. 

The IWC Awards Dinner took place at The Grosvenor House Hotel in Park Lane, London on 9th July. Neil Pinel, Managing Director said "Described as the "Oscars of the Wine Trade", Jane and myself were extremely excited to be nominated for both a regional award as well as the main national award. The wine trade is hugely competitive so to receive two nominations is a massive achievement in itself, but we were delighted to be awarded Regional Wine Merchant of the Year for South & South East England for the fourth year in a row.  We were certainly not expecting to then go on and win the highly prestigious award of Small Independent of the Year.  The competition is always tough against multiple award-winning merchants from around the UK so to say we were gobsmacked when they announced Dunell's as the winner is a massive understatement. As we were walking up to collect the award they announced... It's been an incredibly exciting year for Dunell's. A very impressive shop makeover and continued investment in the business. They have a great range of wines which is brilliantly merchandised. They offer a truly exciting place for consumers to buy wine."

Neil..."I would like to honour our wonderful team for all their continued hard work and dedication, the majority of whom have worked with us for many years. 2018 was arguably the most stressful year at the Beaumont shop coping with constant noise, dirt and dust whilst keeping the shop fully operational but it has all been worth it and we couldn't be prouder of all that we have achieved."
`