Introduction...
The great thing about cooking Chicken dishes is that it is relatively easy to pair wines. That's because chicken is a light meat. White wines are generally a more flexible with smooth dry whites like chardonnay or a crisp Sauvinon Blanc happily partnering a great many chicken dishes. However there are recipes we'd definitely pair with a red and that is all dependent on how it has been cooked and with what sauces. Tomato based or barbeque sauces and spices really lend well to a full-bodied red with a touch of sweetness like a Shiraz, Grenache or Zinfandel. You don't want anything too heavy in tannins so don't go too big!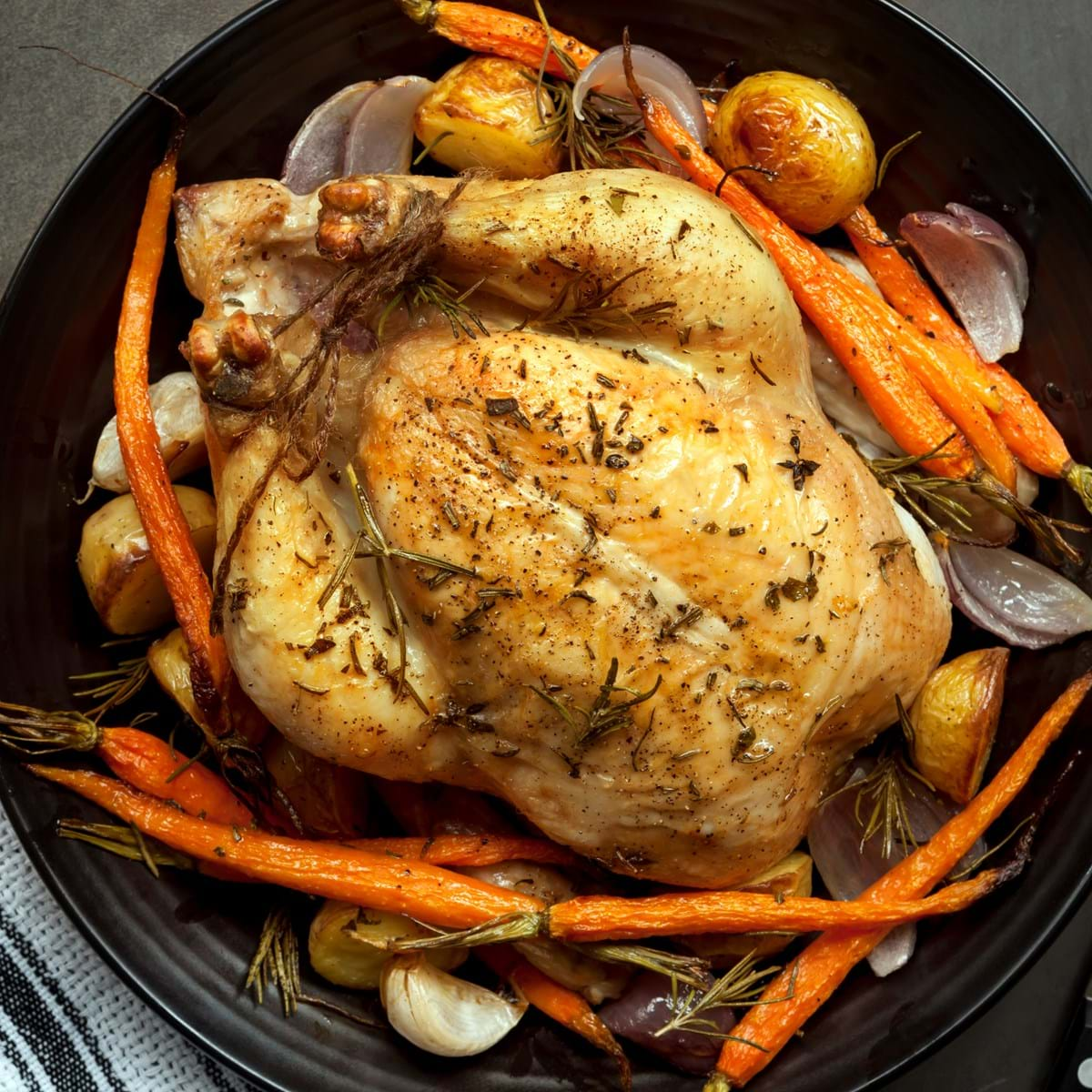 Roast Chicken
Classic roast chicken will pair equally well with a smooth white wine as well as with a lighter red but it really depends on the flavourings / stuffing and the additional sides being served. The basic principle is that you don't want to overpower the dish; a wine with too much ripe fruit and tannins will mask the flavours.
If it's served simply with its own roasting juices then a lightly oaked white Burgundy (like a 1er Cru Chablis or Pouilly – Fuisse) will be the winner as it's not too overpowering for the delicate flavour.  
Acidity is generally your friend in any roast dinner, because the wine can help to lift all the elements on the table. So if the chicken dish is finished with a touch of herbs and lemon, you may want to consider a dry Provence rosé or an Austrian Grüner Veltliner (for example WEINGUT WESZELI Grüner Veltliner 'Felix'), especially if the chicken is served on the sunny terrace in the middle of the summer…
Lighter red wines with good acidity can make a delicious alternative, especially if there is a richer, savoury gravy served alongside. Red Burgundy or a New World Pinot Noir would be delicious. One of our favourite roast chicken parings in with no doubt LITTLE BEAUTY Pinot Noir from Marlborough, New Zealand.
If you have any left overs and going to serve them at room temperature with a salad, then the perfect choice will be a good quality Beaujolais-Villages like Saint-Amour or Brouilly.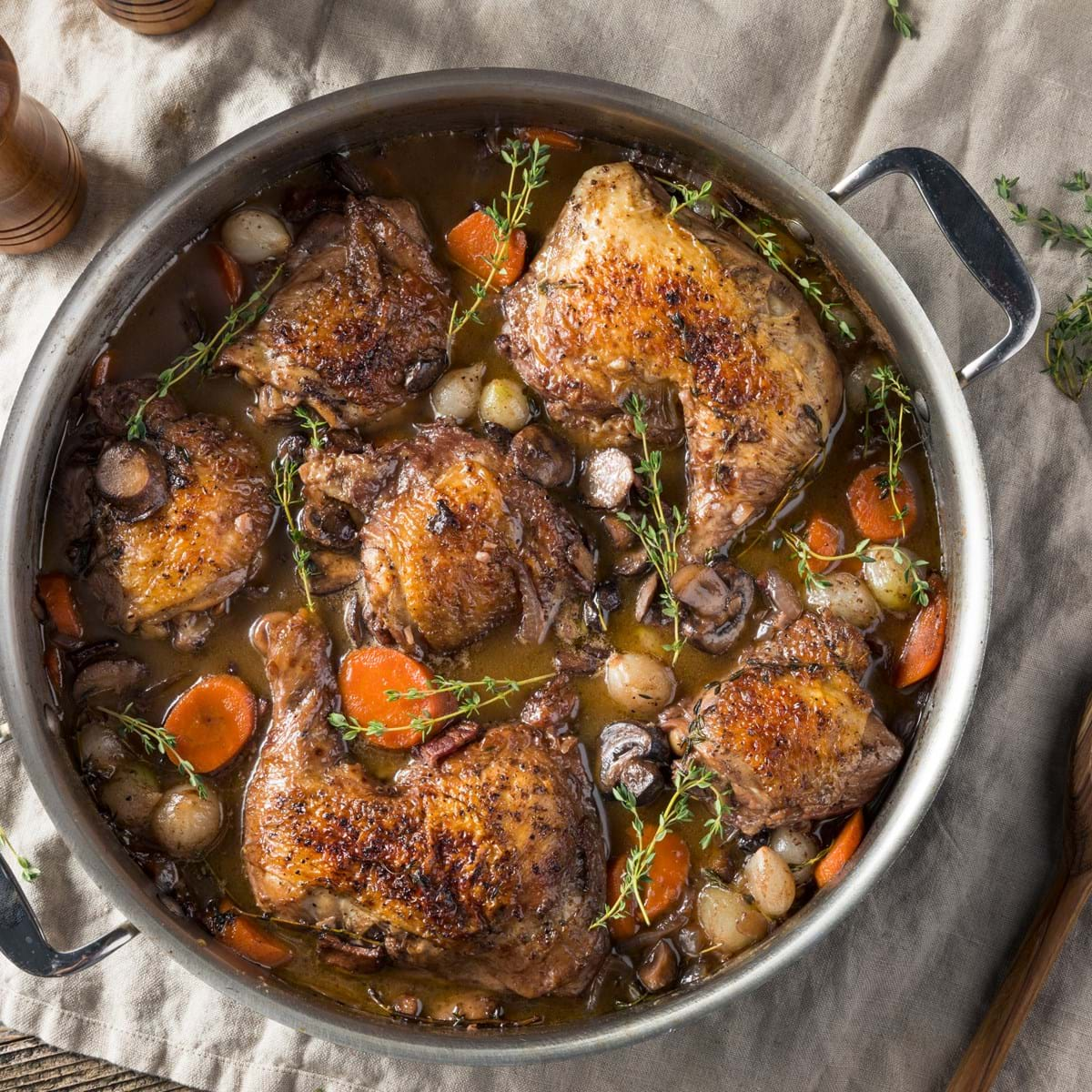 Coq au Vin and Chicken Casserole
Coq au vin and chicken casserole dishes demand for a light to medium-bodied red with soft tannins and good acidity and perhaps a little spice if you like.
The classic coq au vin dish is traditionally served with red Burgundy (like Gevrey Chambertin, Beaune or Pommard) but I would suggest looking beyond Burgundy for better value like German Spätburgunder, Oregon, New Zealand or Tasmania.
Pinot isn't the only red wine to consider, of course. In general, look for fruit-forward wines with low tannins and relatively good acidity to help lift the dish. A good quality, richer Beaujolais-Villages like DOMAINE DE LA CHAPONNE Morgon Côtes du Py with bright red berry fruit and a savory element will be perfect to lighten up the dish.
With a chicken casserole with mushrooms, olives and red wine stew is an earthier and more rustic dish which goes fantastic with a rustic or earthy wine. A savoury red from Côtes-du-Rhône or Languedoc would be wonderful.  
If tomatoes feature heavily in the sauce, then a red wine with high-acid is needed and an Italian red is probably the most tomato-friendly wine. My personal favourite would be VIGNE MARINA COPPI Barbera 'Sant'Andrea' from Piedmont.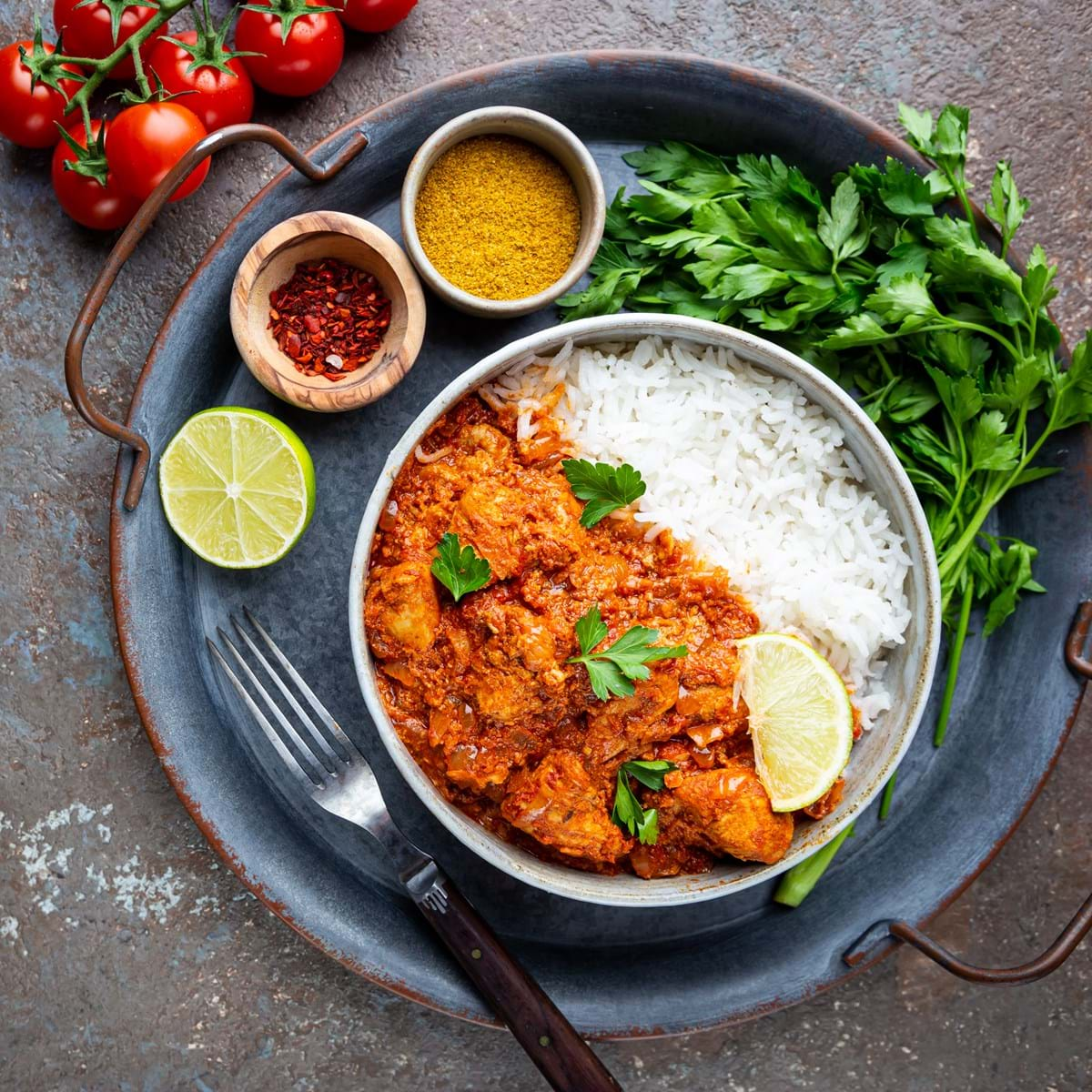 Aromatic and Spicy Chicken
Aromatic and spicy chicken dishes like Thai curry and spicy stir-frys are all about the fragrance and heat and will work well with a high-acid white wine that carries just a touch of residual sugar. An off-dry Riesling is generally the best all-rounder. The sweetness of the wine soothes the reception of heat on the palate and its acidity will lift the flavours. The rule of thumb is, the spicier the dish, the more sweet and rich the wine can be. It is also worth remembering that oak and tannins are the enemies of spicy foods. For example, a heavily oaked Chardonnay comes off as bitter, and young, astringent reds like Bordeaux will only escalate the heat. Alternatively a lager, IPA or a dry Cider will be a good match too.  
One of the best pairings with a medium-hot Thai green chicken curry would be an off-dry Pinot Gris (from Alsace or New Zealand) or an aromatic Riesling such as MAX-FERD RICHTER Mulheimer Sonnenlay Riesling 'Zeppelin' which is vibrant, tangy and refreshing.
With an Asian-style chicken stir-fry full of crunchy vegetables, ginger and fresh chili, an aromatic and refreshing Torrontes from Argentina would be a perfect match. The SUSANA BALBO 'Crios' Torrontes from Mendoza, Argentina is ultra-zesty and fresh. In fact, texture wise, it feels more like a very good Sauvignon Blanc, such is the acid balance and structure in relation to the lovely ripeness of fruit.

These are just a few suggestions but there are, of course, many more. Please do visit our shops, drop us an email at office@dunells.com or message us in the online chat. We'll be glad to help!

By Kasia
DipWSET
Our favourites to go with Chicken
`