Introduction
There's nothing so deliciously decadent as a hearty piece of beef accompanied by a glass of your favourite wine. From flame-kissed sirloin, flavourful roast to a juicy burger, each deserves a unique wine companion to bring out the best flavours and textures. The old saying of "red meat with red wine" can work well with your favourite bottle of red, but you may be surprised by how the subtle nuances of your dish and wine flavours bring out the best in each other when properly matched.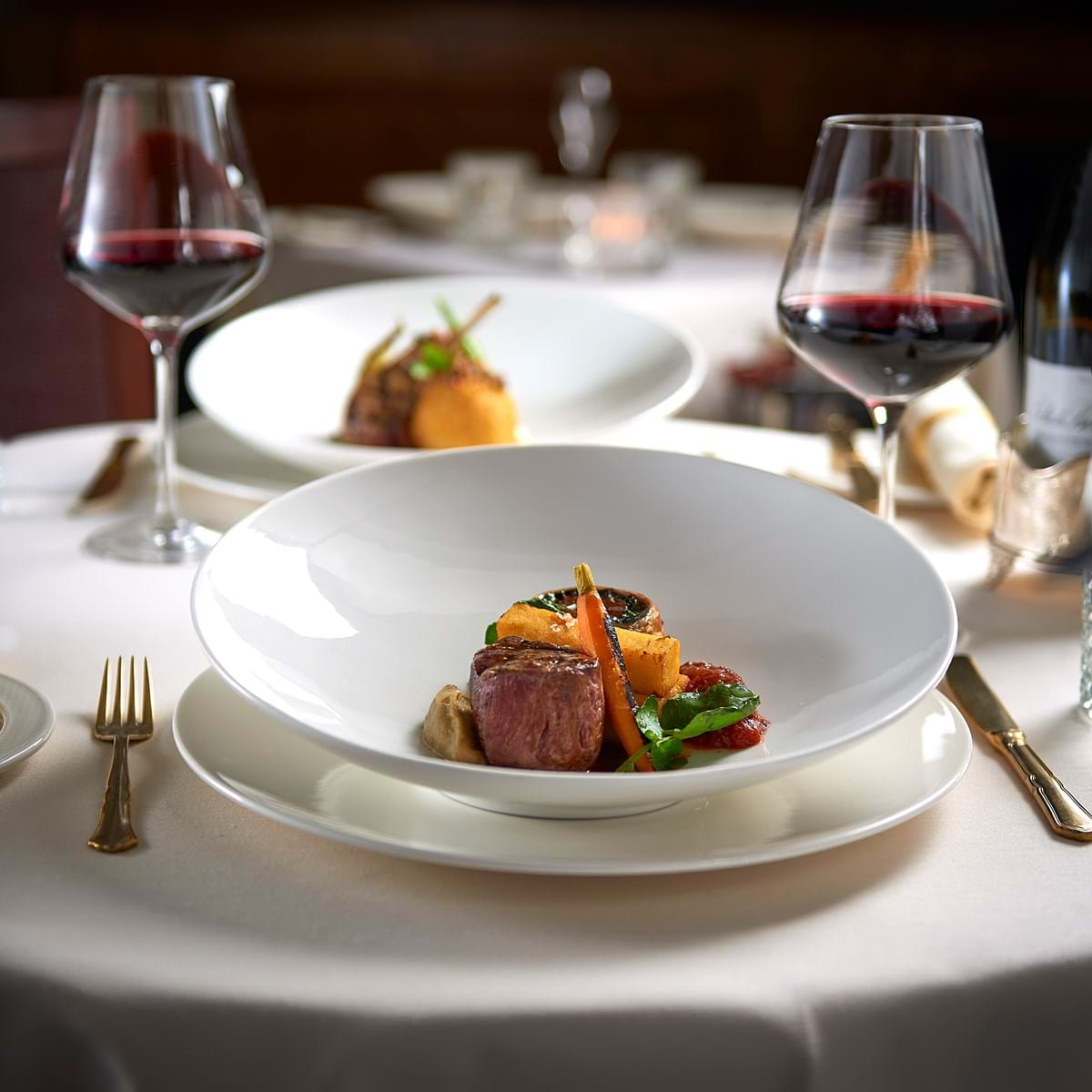 Steak
When people visit Dunell's to ask for a wine pairing to go with beef, invariably they are talking about steak. Steak and red wine are perfect partners and you'll be spoilt for choice, but it is important to choose the right red with the right cut. How it is cooked will also influence your choice. It is fairly easy to match a steak with red wine without too much effort, although more precise pairings depend on three key points: cut, cooking time and sauce.
THE CUT
Leaner cuts, such as sirloin or fillet which are usually served rare to medium, can lack the richness of flavour that comes from marbling so the so the best wines to choose are medium-bodied, dry reds with higher acidity (like Pinot Noir from California, Chianti or even Cabernet Franc) that won't overpower its flavour and it's acidity will help to cut through the texture of the meat. ISOLE E OLENA Chianti Classico would be a fantastic match here.
Fattier cuts of beef, such as rump, T-bone or ribeye have a deeper flavour and will require a more robust wine. Classic Bordeaux, Rhône, or heavier reds from Argentina are perfectly suited to those cuts. Red wines with higher tannins, especially Cabernet Sauvignon will have tannins to help dissolve the fats, acidity to lift the dish and intensity of flavours that can stand up to the richness of the meat.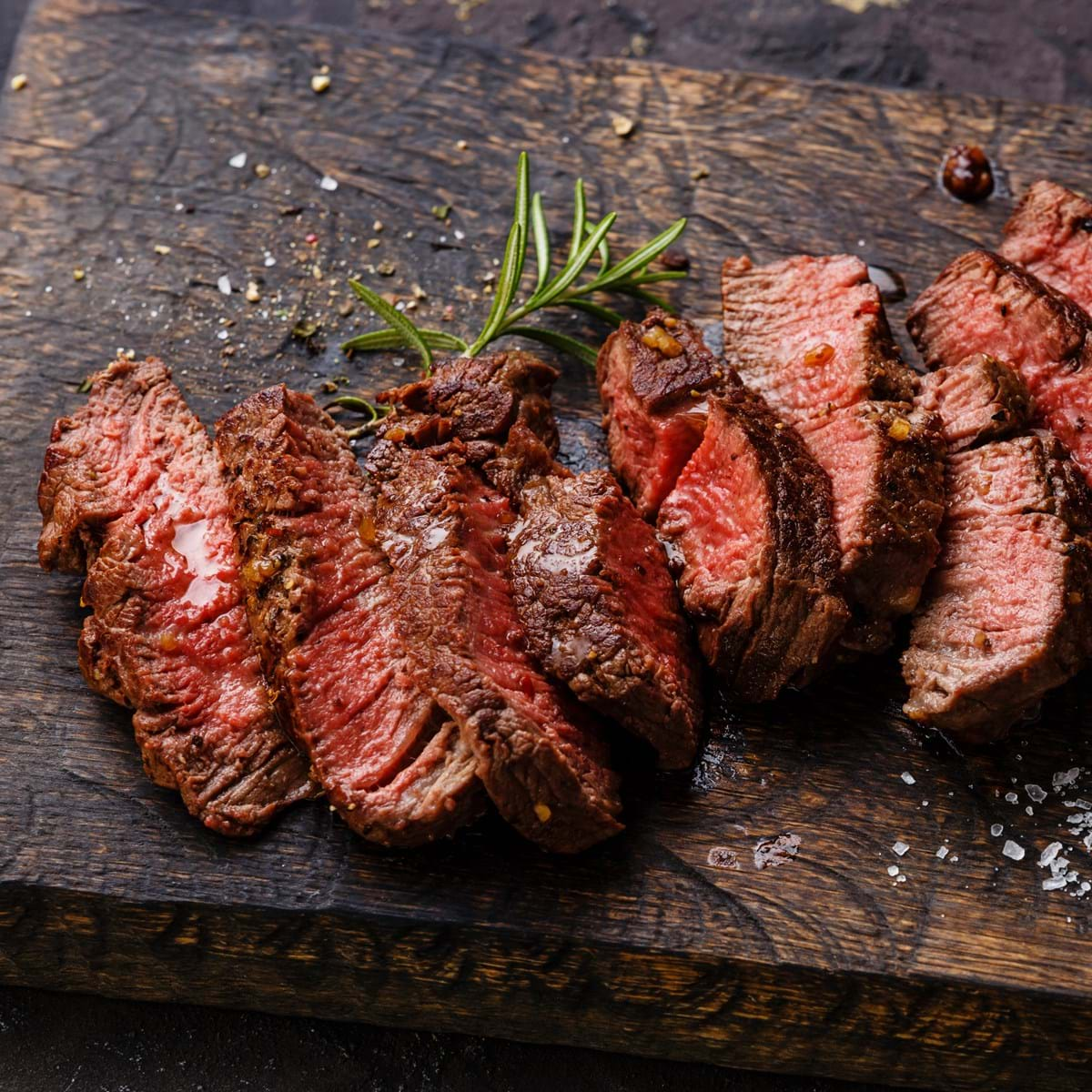 Cooking Time
Think about matching the intensity of the wine to how you prefer your steak to be cooked.
If you like rarer steak this will lessen the sensation of tannin so if you have a young or comparatively young Cabernet Sauvignon or Malbec, a rare steak will make it taste more mellow.
For medium to well-done beef, consider red wines that have more of a savoury character and spicy flavours to reflect the additional roasting time, as well as a bigger structure to match the firmer texture of the meat. If the steak is charred (and therefore bitter) then a red with more ripeness/sweetness will be the perfect choice. Consider a Stellenbosch, Coonawarra or Napa Valley Cabernets like SHAFER VINEYARDS 'TD 9' 2016 for a decadent pairing.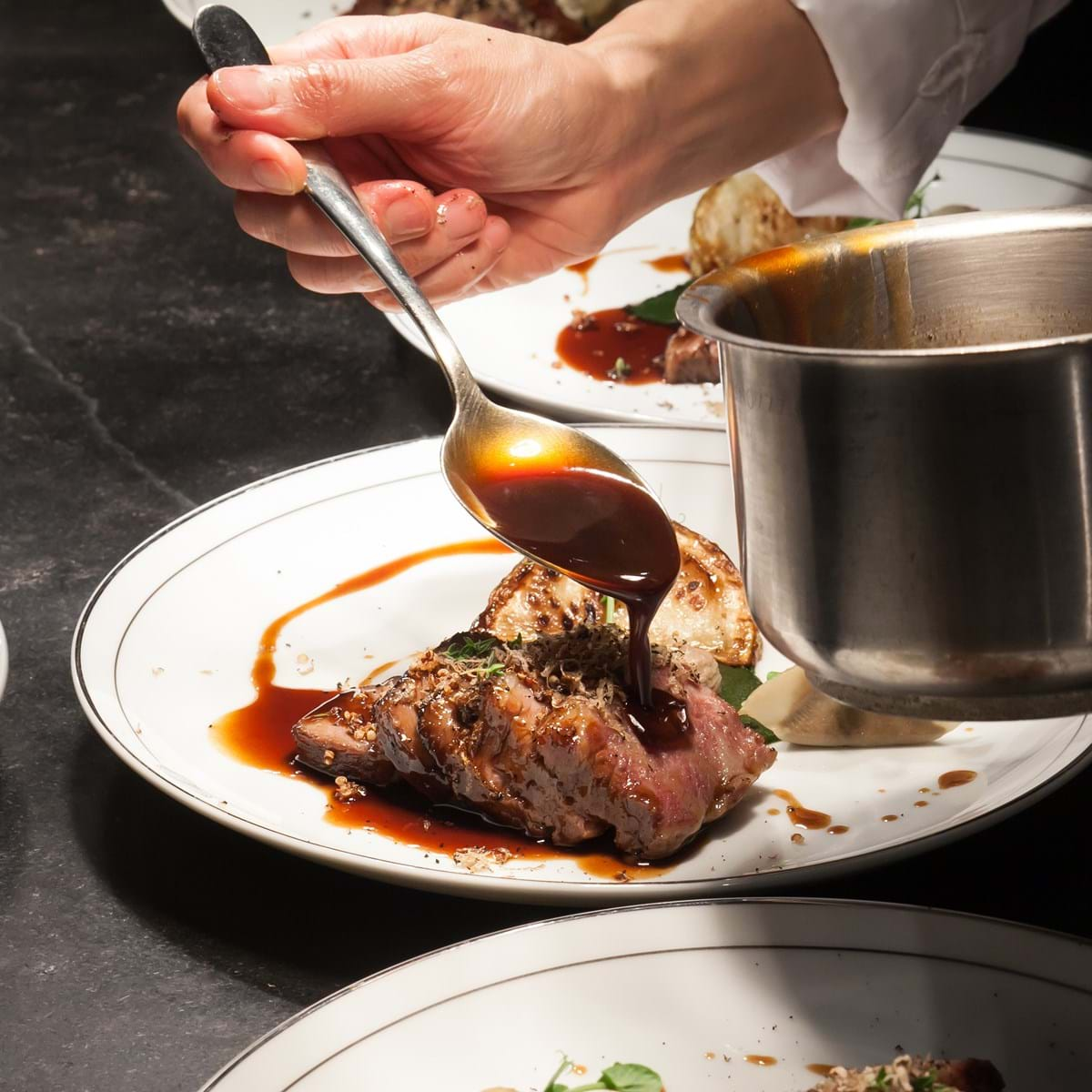 Sauces
The sauce will add further complexity to the dish and will help to balance out the intensity of the wine's mouthfeel. The classic sauces for steaks (mustard, peppercorn, blue cheese) withhold pretty strong flavour themselves so it's worth considering a bolder, riper red that will stand up to the dish.
Rich red wine sauces are easy to match with a classic Bordeaux or a juicy Malbec. Malbec due to its softer tannic structure (unlike Cabernet Sauvignon for example) pairs extremely well with beef dishes served with any sauces including pepper, sage and in particular blue cheese. If you are using a peppercorn sauce, oaky or higher alcohol wines will over-exaggerate the spiciness in the mouth. Consider a ripe Côtes du Rhône or an Australian GSM blend. Bearnaise sauce will be perfect with a lighter red like Pinor Noir or Cabernet Franc and what else to pair with South American Chimichurri, if not an Argentine Malbec or a mouth filling Tannat from Uruguay such as Vina Progreso Tannat 'Elisa's Dreams'?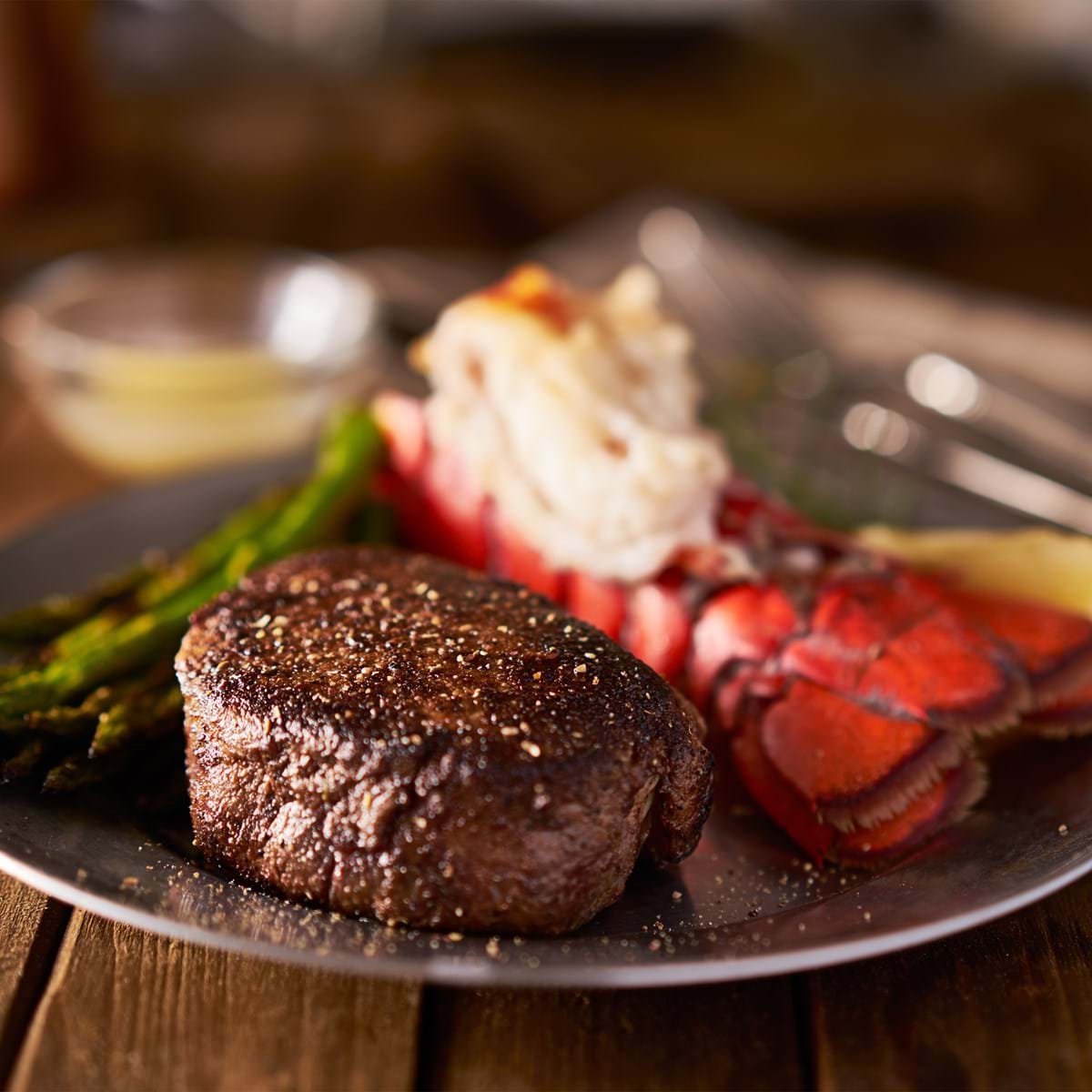 Surf & Turf
Who said that white wine will not cope with the richness of red meat if this is accompanied by a piece or lobster or grilled gambas for example? If you are a Surf & Turf lover like us, and perhaps do not fancy a red wine, you should not disqualify full bodied and silky smooth, barrel aged white wines. Look for a dry and fruity white wine that has enough intensity to stand up to the dish. A creamy, full bodied Chardonnay from California, Australia, South Africa and of course high quality white Burgundy will be the ultimate pairing. A barrel aged Viognier like Condrieu will be another luxury option. One of our all-time favourite pairings with Surf & Turf is DE MORGENZON Chenin Blanc 'Reserve' which you must try!
Fortunately, it's hard to go wrong with steak and wine; you're bound to have a pleasant dining experience so take your time, invite your loved ones and enjoy every moment of the journey!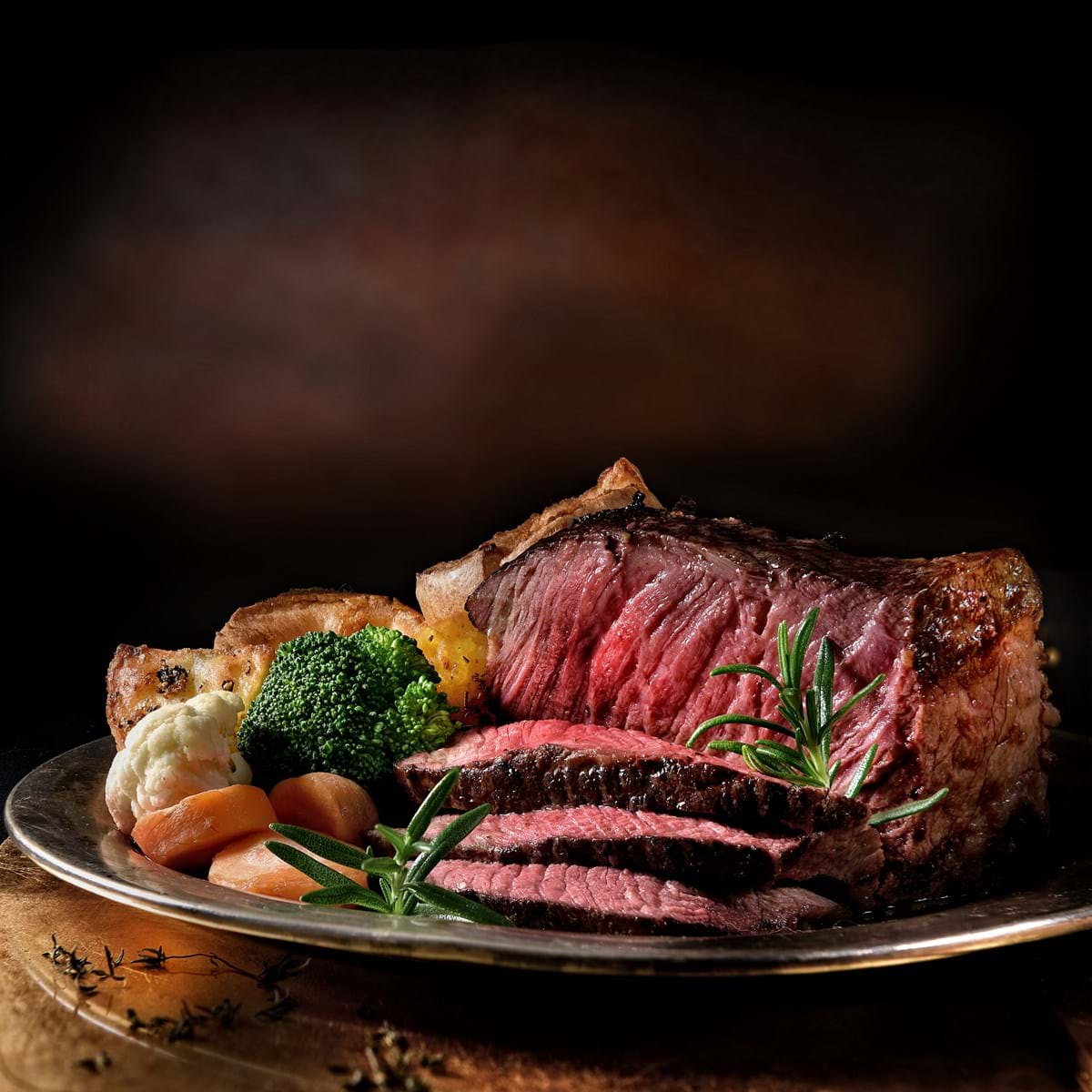 Roast
A superb roast beef can come in many shapes and sizes and like with steaks. You can really drink any of your favourite medium to full-bodied reds but to lift the pairing into perfection, then the choice greatly depends on the cut and its cooking time.
A very lean cut, you will most likely cook at a low temperature and serve rare. The rarer the meat is, the better it will deal with high tannins and high levels of alcohol so you could choose a young, full-bodied Cabernet/Merlot blend or a bold style Shiraz. Personally, I think roast beef is a great opportunity to open a good Bordeaux, don't you?
For more fatty cuts that are cooked longer, more mature reds with softer tannins are best. Prime Rib for example has plenty of fat but it is not charred as steak so look for big reds that are not too heavy on oak, otherwise the spice will mask the juicy flavours of meat.  
Choose between a mature Bordeaux, Tempranillo from Ribera del Duero or a Southern Rhône blend like Châteauneuf du Pâpe or Gigondas. DOMAINE LES PALLIERES Gigondas 'Les Racines' would be a great choice with its dense, brooding style and hints of liquorice and herbs.
Secondly, think about the intensity and spiciness of the sauce. The richer it is, the more full-bodied and youthful the red should be. If it's served with gravy you're better off with a more classic wine like a classic Rioja Reserva or quality Bordeaux red. And if you prefer, a traditional ale or porter (an under-estimated match with roast beef) would work perfectly too.
Horseradish sauce will also affect your wine match - not so much if it's a ready-made creamy sauce but if it's made with fresh horseradish I'd choose a wine that has intense enough fruit to handle it. A Douro red or a Malbec would fit the bill.
And finally, if you have any left-over cuts, try them cold in a sandwich with horseradish and a glass of chilled, medium-dry GRAF VON SCHONBORN Rheingau Riesling Kabinett. Cheers!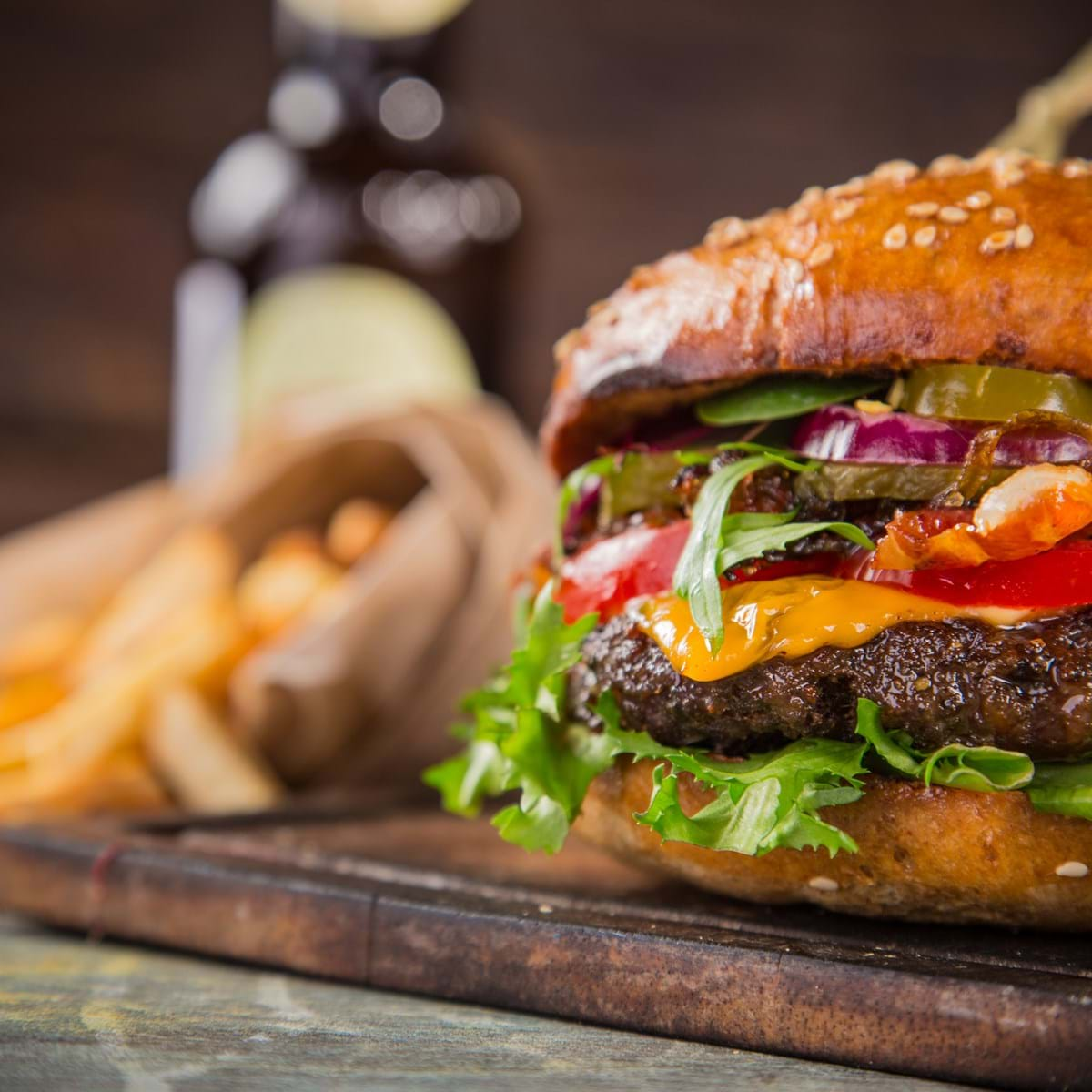 Burgers/BBQ
For a classic ground beef burger, red is the way to go considering that the tannic structure can balance the texture of the grilled beef really well. This is a far better choice than a beer.
Consider a youthful Sangiovese or a Cabernet Sauvignon with lots of freshness rather than ripe fruit or even better a Cabernet Franc. ZUCCARDI Cabernet Franc Apelacion Paraje Altamira would make a great pairing.
If you're a Malbec fan, think about examples from cooler vineyard sites like Patagonia that may have higher-than-normal acidity.
Don't go too heavy on wine with a spicy burger, bright crunchy fruit is best, especially if you're using chilli and a spicy sauce. My favourite choice would be Syrah, particularly from northern Rhône. Its black fruit, dried herbs and smoky, peppery profile will work perfectly.  
You may ask, what about the cheese? A creamier, fattier cheese (like Fontina or Monterey Jack) will emphasise the need for juicy fruit and good acidity, while a tangier, harder cheese (Cheddar or Gruyere) will be able to handle a slightly bolder wine, such as a Cabernet-based Bordeaux blend. For a blue cheese topping, go for ripe flavours suggesting sweetness that counter the saltiness of the cheese like Zinfandel or a jammy Shiraz.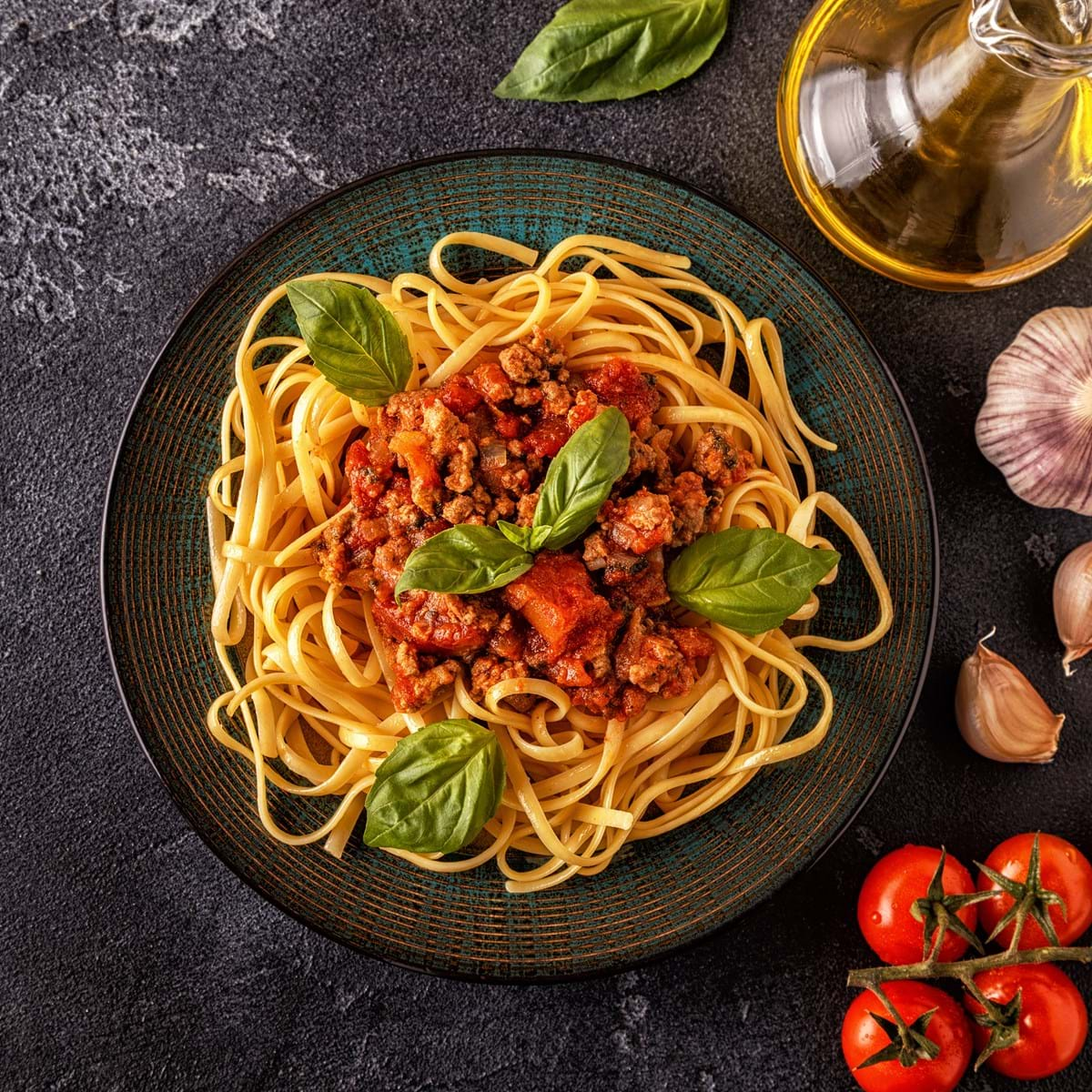 Spaghetti Bolognese / Beef Lasagne /  Ragu
If you follow the theory that what grows together goes together, then you should pair Bolognese with its home region – Italy, ideally from the north. Italian reds are the way to go with pasta Bolognese and other pasta and tomato based dishes. You will need some lively freshness and acidity in the wine to cut through the richness of the sauce, allowing a burst of red, ripe juicy fruit to shine through.
For a mid-week pairing I would go for an easy drinking red like Barbera from Piedmont. With its juicy cherry fruit and refreshing finish, it can stand up well to the acidity and richness of the sauce. PAVIA & FIGLI Barbera d'Asti 'Bricco Blina' is one to try.
For a more luxury pairing, the highly prized wines of Barolo and Barbaresco (made from Nebbiolo grape) will make a divine match. These wines have beautiful aromatics and a serious acid-tannin structure that are simply fantastic with Bolognese. Ideally look for a bottle that has few years of bottle age which help to mellow the tannins yet Barbaresco is usually ready to drink a little younger. One of my favourites would be the sensational and elegant BRUNO ROCCA Barbaresco.
These are just a few suggestions but there are, of course, many more. Please do visit our shops, drop us an email at office@dunells.com or message us in the online chat. We'll be glad to help!

By Kasia
DipWSET
Our favourites to go with Pairing wine with beef...
`