Introduction...
Charcuterie plate is one of the easiest ways to satisfy even the most hedonistic and greedy palate: you go from fatty, rich pâté to nutty to spicy cured meats. Usually there are three or four items served ranging from fatty to spicy and spreadable.  
The word "charcuterie" comes from the French words chair, which means "meat" or "flesh," and cuite, meaning "cooked." Many cultures used salt to preserve foods before modern refrigeration was invented in the 1950s.
When choosing the perfect wine, the first rule for me would be to go for regional matches whenever possible – 'what grows together goes together'. If you know where the charcuterie was made, then it will be easier to pair it with wines but if you've got a whole selection of different styles and origins together, then chooses a lighter, refreshing all-rounder (like Pinot Noir, Cab Franc from Loire, Beaujolais or a Barbera) in the best way to go. Light- to medium-bodied red wines with firm structure and freshness are always a safe choice especially with high salt content in cured meats as salt in food softens the acidity in wine. Moreover, the wine's fresh berry flavours cut through any fatty and creamy textures.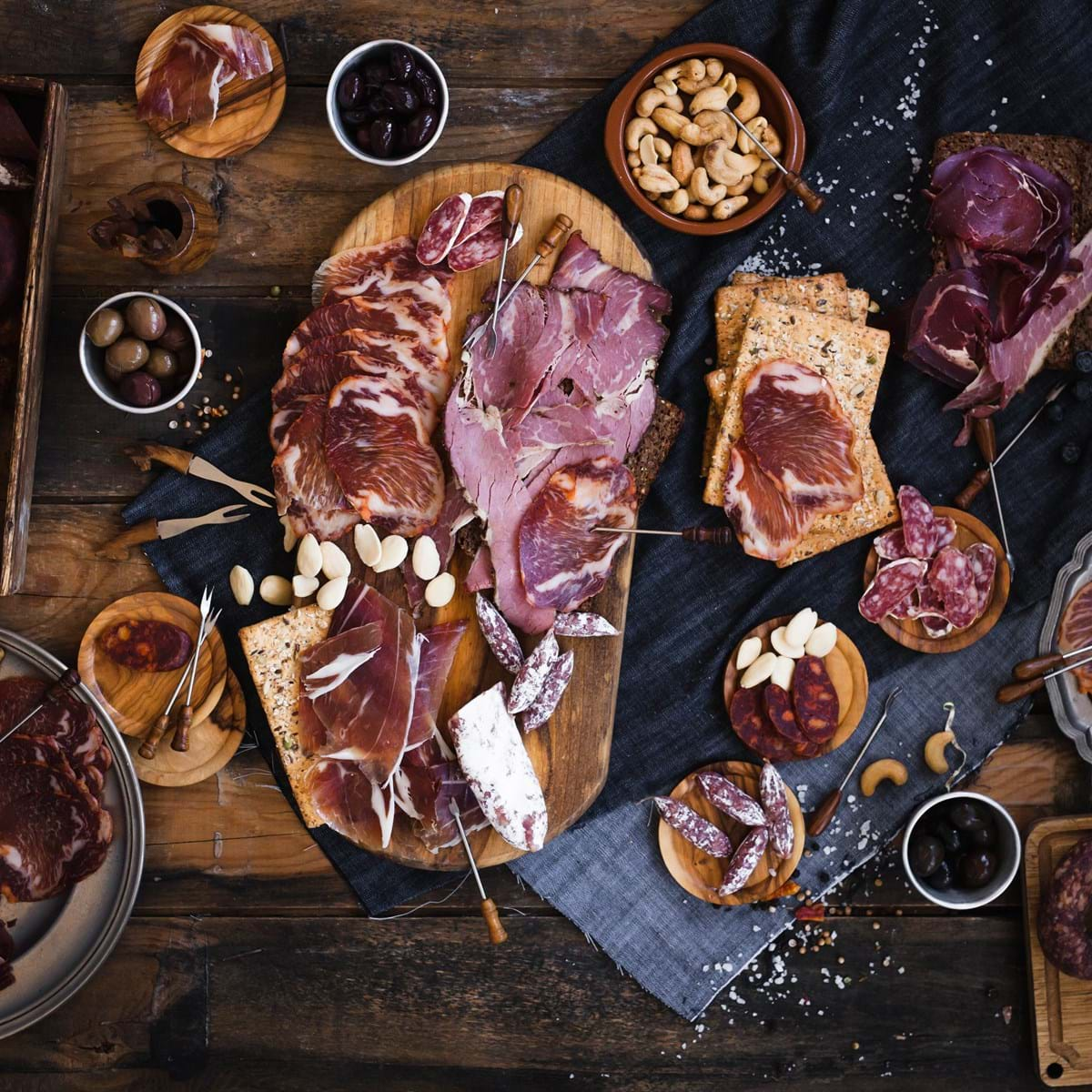 Spanish themed
The king on a Spanish board with no doubt be Jamon Iberico. The highest grade is known for a sweet, nutty acorn flavor, courtesy of "bellotas" from regional oak trees which gives the meat a very unique aroma. A more affordable version would be jamón serrano but it doesn't have the same richness of flavour.  The refreshing white wines of Spain (especially Albariño and Verdejo) as well as bold and firm reds from Ribeira del Duero will complement the dark flavours of Iberico perfectly but the best pairing of all may be a dry Sherry or a crisp Manzanilla like EMILIO LUSTAU Manzanilla 'Papirusa'. A good quality, complex Cava would go great too lifting the subtle sweetness of the meat.
Chorizo picante which is a Spanish pork salami spiced with hot paprika is also a staple. As it is full of flavour and spicy, it will hold up very well to a strong, yet not too tanic red. Crianza Rioja will work well, but bone dry Sherries like Fino with nutty richness will be delicious too. When served chilled, the dry sherry will have a perfect clean refreshing flavour to contrast with the salty and spicy complexities of cured meat.
If you are serving the Jamon and Chorizo with a wedge of Manchego, some Gordal olives, Marcona Almonds and dried figs or apricots for a sweet counterpoint, then surely a bottle of highly quaffable traditional method fizz like DOMINIO DE THARSYS Cava Brut Nature will not disappoint!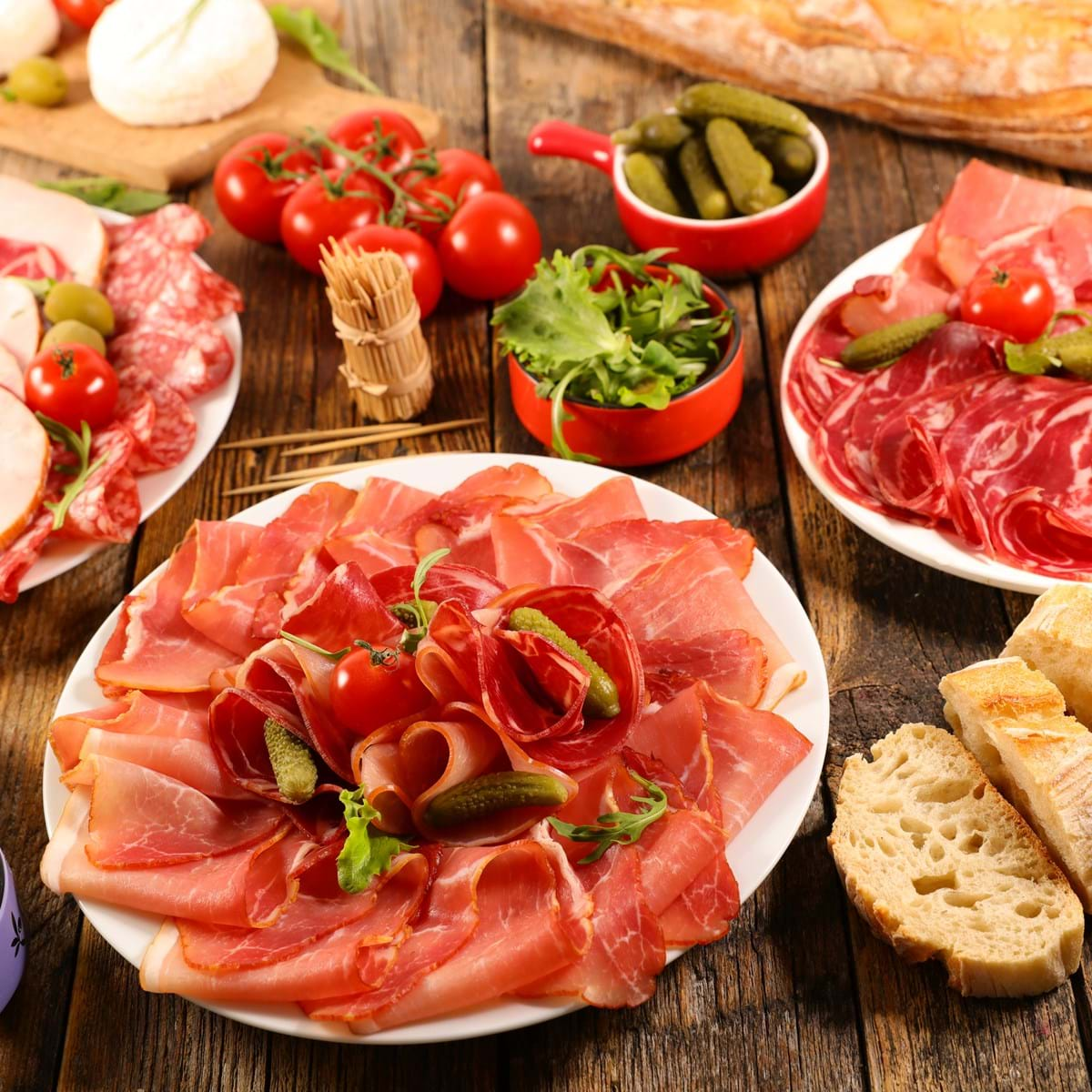 Italian themed
The main ingredient on an Italian charcuterie selection should be Prosciutto di Parma which has a slightly saltier profile than Jamon Iberico yet with delicate, nutty profile. Each region of Italy has its own signature recipe and flavour profile of Prosciutto, but the most common are from Parma, Tuscany and San Daniele. Alternatively for a higher meat-to-fat ratio you could try Culatello is a boneless cousin of prosciutto.  Either way for the best wine pairing look for a white wine that offers some mineral freshness to balance out savory and salty flavours of the meat. Verdicchio, Vermentino and Gavi di Gavi would be excellent like ANTONIO E RAIMONDO Gavi di Gavi 'Fratelli' with its floral hints and nutty aftertaste.
Salami and other dry cured sausage (typically with fennel) would complement the Prosciutto really well. Salumi is fact is an Italian word for "salted meats," which includes preserved whole cuts of meat. Versions include Soppressata (made from dry-cured, coarse-ground pork with red pepper flakes from Southern Italy) and Finocchiona (skinny Italian salami packed with fennel seeds). Typically a not-too tannic but fruity red will work best, especially if they have some balancing acidity to cut through all that fat like Barbera or you could try its premium neighbour Nebbiolo (ideally an elegant and not too heavy Barbaresco).  If you feel brave, try this fun Rosé made from Nebbiolo which has juicy, concentrated flavours and hints of firm tannins so will work wonders with cured meats - CABUTTO Langhe DOC Rosato 'Tenuta la Volta' from Piedmont.
If you enjoy drinking more full-bodied red wines avoid pepper-crusted salami or other meats with heavy spices. Bresaola (air-cured beef fillet), which can stand up to fuller red wines, would be a good choice for or an older, smooth Sangiovese/Cabernet blend from Tuscany.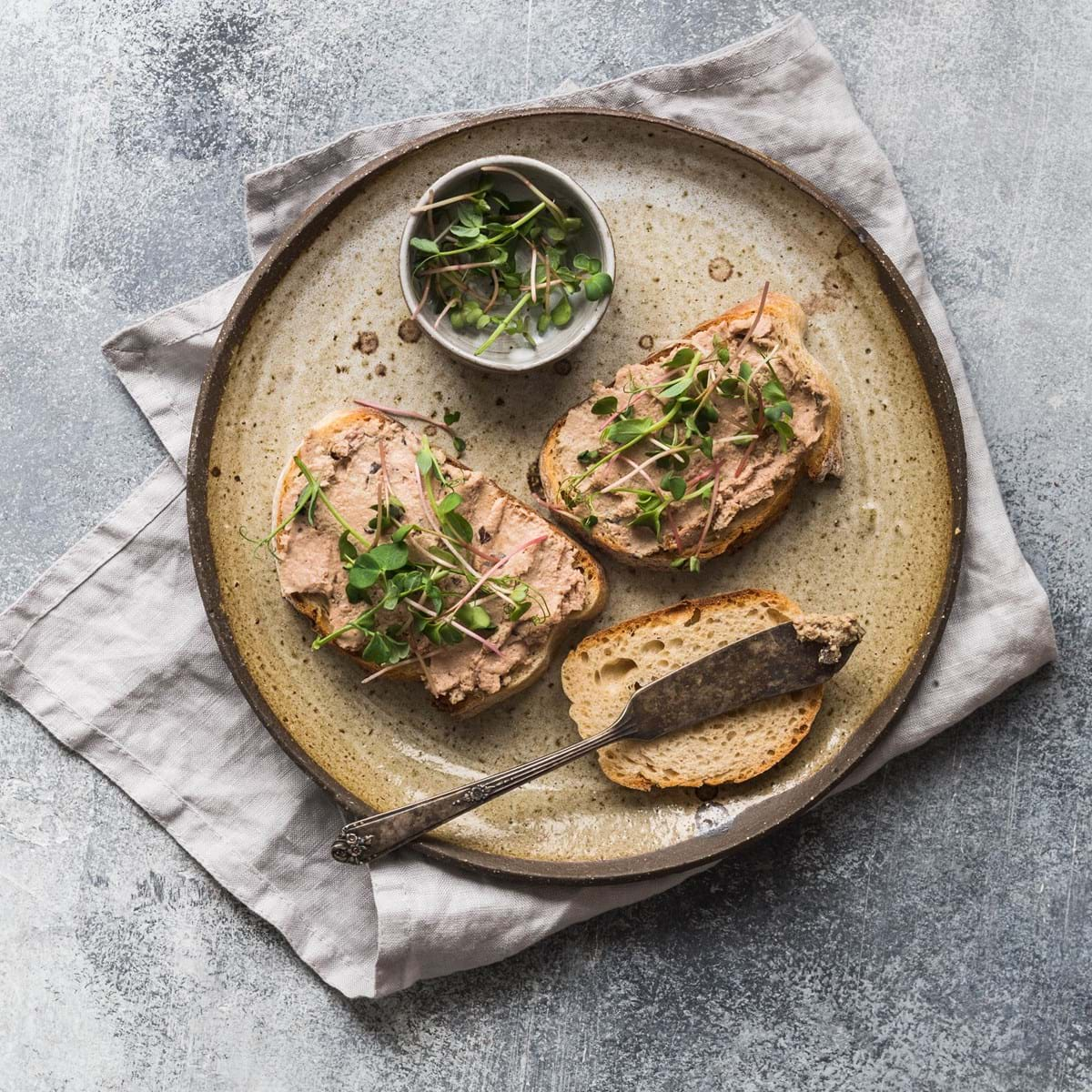 French themed
On a classic French board you ought to find dry saucisson and a softer sausage made with garlic and pepper as well as a pork rillettes which has quite a lot of fat but is also incredibly rustic and ridiculously rich.
Pinot Noir or a Beaujolais with its soft tannins and purity of fruit would be the perfect match here as it will pair with pretty much any rustic charcuterie to great effect.
For a duck rillettes which is a duck leg confit shredded before being mixed with spices and Armagnac with slight less fat that then pork rillet, a more concentrated red would be ideal. Look for a quality 'cru' Beaujolais with ripe cherry flavours and mellow, well integrated structure like DOMAINE DE L'IRIS Moulin-a-Vent. It will also work well with a gamier pâté.
You may want to include a chicken liver pâté or foie gras on your charcuterie board and classically pair it with the sweeter white Sauternes. If it's a lighter mousse pâté, you could also go for a white wine that has a touch of sweetness and a bright acidity like Vouvray or Pinot Gris (not Pinot Grigio) like BRUNO SORG Pinot Gris Grand Pfersigberg.
Finally, if you are indecisive, remember that fatty meats need bubbles so it is worth having a bottle of decent Champagne stashed away for an unexpected charcuterie feast!

These are just a few suggestions but there are, of course, many more. Please do visit our shops, drop us an email at office@dunells.com or message us in the online chat. We'll be glad to help!

By Kasia
DipWSET
Our favourites to go with Charcuterie
`